By GODWIN ORITSE
THE berthing Committee of the Nigerian Ports Authority (NPA) Warri port has petitioned the management over extortion by the Ecravos marine pilots, a claim the pilots have denied.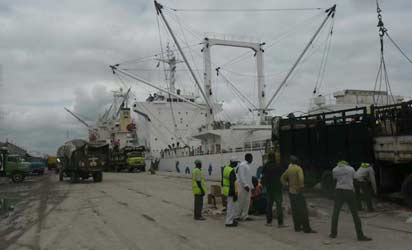 The berthing Committee comprise the Nigerian Ports Authority, (NPA), shipping companies and agencies.
The Ecravos marine pilots is a group of young locals with vast knowledge of the waterways in the Delta area who assist ship captains to navigate through the shallow waters.
A letter signed by Igberebuo Efe, leader of the Committee said that the a vessel was recently delayed and suffered extortion nd intimidation in the hands of the pilots.
The Committee said that  the action of the pilots is causing delay in the inward movement of vessels that call at the Delta ports.
While the Committee argued that the advertised draft of vessels coming into the channel is put at 6.4 meters, the pilots are claiming that the permissable draft is 5.4 meters
The committee said " We the shipping agent operating in the Delta Ports area wish to draw your attention to the recent extortion and intimidation from Ecravos pilots saying that any vessel above 5.8 meters draft cannot come into Warri pilotage area.
"They are asking for N200,000.00 (Two hundred Naira Naira) before such vessels are allowed to proceed inward.
"We the shipping agents know  that NPA draft for Warri is 6.4 m eters as advertised by NPA.
"The situation  is causing delay in bringing in vessels to the port.
"It may interest you to know that M.T. Apha Prosperity was delayed for about three days before proceeding inward.
This situation is unacceptable to us, as we cannot compete with our counterparts in other ports.
Commenting on the development, the Director of  Operations of the Escravos Pilots, Captain Solomon Prebo said that no pilot has extorted money from anybody, adding that whatever is given to the pilots is done with   free will of the ship agent.
He insisted that the permissible draft of the channel is 5.4 metrers and not 6.4metrers being caimed by the shipping agents.
He said that if any vessel must pass through the channel, she must do so within the stipulated draft adding anything short of this will not be handled by any pilot.
"I have told them to write an indemnity saying that   should anything happen to a vessel that is beyond the stipulated draft , the ship agent will take responsibility but they refused to write".
Also speaking on the matter, the Port Mnanger of Warri port, Mr Obuneme said that the permissible draft at high waters is usually 6meters.
The pilots said "The shipping firms keep bringing bigger vessels than the permissable draft".