By Ben Agande, Abuja.
President Goodluck Jonathan Sunday clarified that he never said members of Boko Haram infiltrated his cabinet but that they may have infiltrated the government.
He made the clarification the presidential Media Chat.
"I never said Boko Haram has infiltrated my Cabinet. What is said was a that it has infiltrated the government. You will agree with me that during the period, a serving senator was arrested.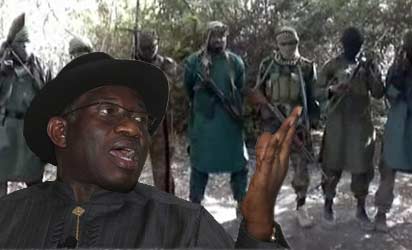 A judge was sacked and some security personnel are being investigated for their alleged involvement with Boko Haram. I never said Boko Haram infiltrated my cabinet. And the government is made up of the Executive, the legislature and the Judiciary".
Asked whether the national Conference is legitimate, the President said "National Conference is legitimate. The constitution of Nigeria empowers the president to get people to advise him on policies and other things.
We wanted to set up the law but with the kind of parliament especially the House of Representatives, we were also mindful of the roadblocks.  All what we want is for the people we have selected to agree that this is the best thing for this country. If they say this is what we want neither Jonathan nor the parliament can stop it".