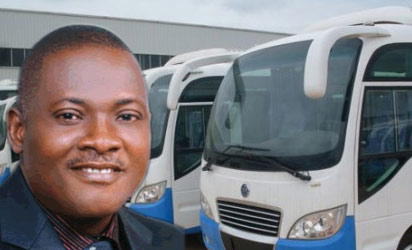 Innocent Chukwuma
By Abel Kolawole
It is no longer news that Nigeria is manufacturing her own vehicles, but the good news is that the first indigenous vehicle manufacturing company, Innoson Group, based in Nnewi Anambra State, is setting up a training school for workers who will be picked from the company. after training, service centers would be opened for them across  the country where they will attend to automobile cases.
Speaking in Nnewi, the business mogul and award winning vehicle manufacturer Chief  Innocent Chukwuma, revealed that 60% of local content is being used by his company for the manufacturing of  vehicles, saying that the vehicles are far better and durable than the ones imported.Excerpts:
Tell us about yourself, who is Chief Innocent Chukwuma?
Chief Innocent Chukuma is the Chairman of Innoson Group from Nnewi.
I started  by trading before  going into manufacturing. I was trading in  motorcycle and motor parts. Later, I started assembling motorcycles.
From that, I built  a  plastic plant to support the motorcycle assembly plant and later I built a motor vehicle manufacturing plant. I  also built a tyre manufacturing plant and all are working well.And you can say it took of from there.
What is the staff strenght of Innoson?
I have about 7,200 workers in  companies and more still to be added because we are continually expanding. A new car plant is coming on stream.
Why did you go into manufacturing?
I felt that Nigeria is a virgin place, and  a very big and profitable market to tap into, I felt manufacturing is better for Nigeria.  I am also advising any body in business like us to go into manufacturing. This will also create jobs for  youths.
I don't want to be an importer any longer  and keep creating jobs for youths abroad while are youths here are looking for work and getting into all sorts of social vices and thus giving the country a bad name. If  I can source most of the raw materials in Nigeria, it is better.
With the new government policy and imported vehicles ban, how has the government supported you manufacturers?
Well, government is doing its best to support us manufacturers. They have done a lot of things, which is why we are moving. Minus government support I don't think we will be here. The setting up of the Bank of Industry, the National Automotive Council, and all the other organizations that are giving us different kinds of support is indicative of government interest in vehicle manufacturing.
Powers in very vital in manufacturing. How do you intend  to get  round this obstacle?
Everybody is supposed to be happy with the improvement in power supply in Nigeria. The time we started these factories, power supply was very poor; there was no hope but today we have hope. We were using 10-20% olf national grid but today we are using 70% power supply is improving.
Is there any plan of training people in automobile manufacturing?
We are already building an automobile school very close to our factory. We want to pick workers here and train them; after training, we  can open a service station in any part of the country for them. This system helps make our product more attractive to the user because to repair does not mean that the user has to come to our factory since there are service stations all over the federation.
What is your relationship with the Chinese government?
I have a very good relationship with them; they come and train our people.
What about local content?
I have about 7,200 workers; only 30 are Chinese. I am also thinking that this year, 60% of local materials must be used in our manufacturing. Like the body of the vehicle, we make it 100% here with flat sheet plates. All the pastic components too are made from my plastic plan. Rubber materials, seats or upholstery, we source it in another factory here in Nnewi.
The battery too is sourced locally.
How are you dealing with acceptance of your vehicles by Nigerians knowing that we are used to imported vehicles?
Our only challenge is acceptance. It is time we as Nigerians nay Africans take pride in cars manufactured on our shores. I want Nigerians to accept our products as they can compete with anyone's anywhere in the world.
Aside this, our economy will grow and most of the vices we see our youths engaged in today will stop because when they are employed there is no time for politicians and other evil intended people to use them to foment trouble.
Who are your targeted clients?
My vehicles are every where. We  have the plan to go well beyond Africa. Like people say, a good product will naturally sell itself, that is our target. When the product is good, it will sell anywhere in the world. The federal ministries, private organisations, state governments use Innoson vehicles.
How affordable are your vehicles compared to imported ones?
The vehicles we produce here are better than the ones imported from Europe. We know what we need here and what is good for our people; so we are making it much better in terms of weather conditions and quality than the imported ones. Our prices are reasonably better compared to the imported ones from Europe.
What is your relationship with other manufacturers?
Our relationship is cordial. I related well with Dangote  and other manufacturers. I am a member of Manufacturers Association of Nigeria and anything that is a stumbling black to us, we use the association to talk to government and they listen to us.
Any plan to expand beyond Africa?
I have told you that my vehicles are all over Africa. Innoson Motors will soon expand its brand beyond Africa. The world is our target andn we will get there.
What is your advice to upcoming manufacturers?
I am advising them to join hands with me instead of paying for things brought from outside. With that you will pay people working here and thus empower your own people. Any of the ministries that import vehicles from outside. I believe that ministry does not want to support its own country.