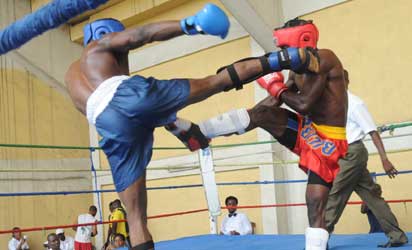 SURULERE LOCAL GOVERNMENT'S EMEDIONG SIMEON (BLUE) KICKS SHITTU RAMON OF ISOLO LOCAL GOVERNMENT, DURING A SEMI-FINAL OF MEN KICK-BOXING GAME AT THE LAGOS STATE SPORTS FESTIVAL IN LAGOS (24/5/12). NAN
There has been low turnout of spectators in some of the venues for the ongoing Lagos State Sports Festival, tagged Ibile Games.
At the Teslim Balogun Stadium, one of the venues currently hosting Taekwondo and Swimming events on Friday had only a hand full of spectators to watch the competitions.
There was also low turnout at the venue for Table Tennis event at the National Stadium, Lagos.
At the Charlisco Sports Centre, Oshodi area of Lagos, the spectators who came out to watch boxing, the only event at the venue was also low.
However, at the Rowe Park, Yaba, the situation was different as many spectators turnout to watch events like gymnastics, basketball and weightlifting.
NAN correspondent gathered that the poor turnout was a result of an apparent poor publicity ahead of the start of the Games.
Again, some of the events ongoing right now are still the so called lesser sports.
However, Bode Kenku, a member of the Local Organising Committee (LOC) said: "The low turnout of spectators cannot be as a result of poor publicity.
"We organised street shows, billboards, banners and radio jingles to announce the Games. The spectators may have other reasons which can be mere apathy.
"But I am optimistic that spectatorship will pick up by next week when events like athletics and boxing will begin".
Kenku enjoined the sports-loving Lagosians to avail themselves of the opportunity and come out en masse to watch the athletes perform.
Also Shameed Oseni, a taekwondo coach with Surulere Local Government Area, urged the organisers of the ongoing Lagos State sports Festival, "Ibile Games", to ensure athletes were fulfilled.
He said rewards and adequate compensation remained the major safety net that would discourage athletes from seeking greener pastures in another state.
"There must be good conditions and allowances on ground for participating athletes in this game; the reason is to encourage them so that they will not run to other states.
"This is our own state festival and it will be good to enjoy the benefit of the athletes we train from these Games to DAWN Games and the National Sports Festival.
"The coaches that groom the athletes must also not be ignored because when both are happy, Lagos State will stand out in any national festival," he said.
NAN reports that 25 sports are featured in seven designated centres, holding from April 30 to May 10.