By Ben Agande, Abuja
President Goodluck Jonathan yesterday set up a  fact- finding committee comprising of security agencies and international organizations to assist in the possible rescue of 276 abducted female students in Chibok area of Borno State.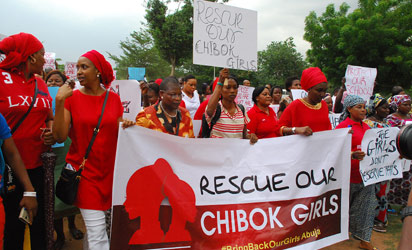 Minister of Information, Labaran Maku who briefed state House correspondents after an extensive meeting with security chiefs said the decision to set up the committee arose as a result of conflicting information about the abducted students.
Maku who was joined by Spokes persons of the security agencies said yesterday's meeting received updates on the second Nyanya bombing, the ongoing search for the Chibok girls, and efforts made so far to deal with related incidents of insecurity and terrorism in the country.
He said security chiefs also briefed President Jonathan and the meeting on efforts so far made to locate and rescue the girls, and bring the perpetrators to justice.
President Jonathan, he said gave instructions for additional proactive measures by security agencies to enhance public safety, including increased public awareness for citizens to step up their cooperation with security agencies by reporting suspected activities and persons likely to cause a breach of public peace, safety and security.
The minister added that the Air force has kicked out extensive surveilance of  all the routes leading into and out of Chibok up to the Chad and Cameroun borders .
"Other parts of Borno and Adamawa states are also under the searchlight." He added.
"Every information relayed to security agencies has so far been investigated, including the search of all places suspected as a possible hide-away of the kidnapped girls. The police, backed up by the military and DSS, have combed and are still combing all reported places that the girls might have been taken to."
He said President Jonathan also commiserated with the families of the deceased in the latest bombing at Nyanya.
He said the President has directed that  full medical treatment be given to victims at government expense.
"The President also shares in the pain and anguish of the parents and guardians of the Chibok girls abducted by the terrorists. The President's heart goes out to these our unfortunate daughters who have had to endure the trauma of abduction and separation from their loved ones.  The government and people of Nigeria stand solidly by them".
President Jonathan has appealed to the parents, guardians, relations and members of the public to furnish security agencies with all the information that will assist in the rescue of the girls.
"Government also appreciates the public outpouring of support and the sentiment expressed so far by all Nigerians, including civil society groups who have come out to condemn the abduction of the girls and terrorism in the country. Government strongly believes that the people of Nigeria, standing together, will overcome the current security challenges" Maku added.
Emphasizing on the Chibok abduction, Maku said, "The President assures Nigerians that "wherever the girls are in the world, we will get them back, apprehend and punish the culprits".
Subscribe for latest Videos