ECOWAS is set to implement the provisions of its maritime security strategy along with other regional economic communities in the continent, an official said on Thursday.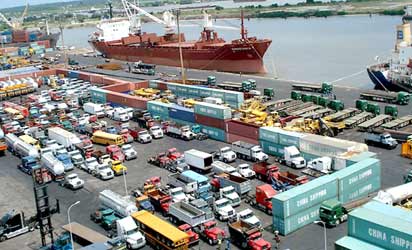 Mr. Mohammed Tukur, the Maritime Safety and Security Officer in ECOWAS Regional Security Division, disclosed this in an interview in Abuja. Tukur, who spoke on the sideline of an international conference on African Approaches to Maritime Security, said the conference would enable stakeholders formulate legal documents on maritime security.
"The Yaoundé summit on maritime security came up with the Yaoundé Declaration. The AU also has the 2050 Africa's Integrated Maritime Strategy. ECOWAS too has adopted the ECOWAS Integrated Maritime Strategy (EIMS). We have these strategic frameworks in line with the UN Security Council (UNSC) Resolutions 2018 and 2039 on acts of piracy and armed robbery at sea off the coast of the states of the Gulf of Guinea.
"Operationalising these strategies will be done step by step and the AU will rely on the regional economic communities for implementation."
He said the EIMS adopted in March would ensure a holistic maritime policy framework for action and co-operation within West Africa. Tukur said it would also strengthen collaboration with other African regional bodies. He said the development of an Integrated Maritime Strategy between ECOWAS and the Gulf of Guinea Commission was ongoing.
The official added that the outcomes of the Yaoundé Summit were steps towards inter-regional cooperation to tackle challenges to maritime security. He said the community's member-countries had begun the implementation of ECOWAS Pilot Model Zone E within the framework of the EIMS. Tukur recalled that Nigeria and Benin signed a bilateral agreement for combined patrols to combat piracy in 2011. "This has served as a model for the implementation of the Pilot Model Zone E project," he said.
The ECOWAS official said countries within the project include Nigeria, Benin, Togo and Niger, and that other projects would be launched to accommodate all member-states.
"Ghana, Cote d'Ivoire, Liberia, Sierra Leone will comprise Zone F, and the final zone, Zone G, will include Gambia, Cape Verde, Senegal and Guinea Bissau."
Though the official did not say how much funding would be required, he however said it would be a collective effort of the commission and member-states.
"It is an expensive, herculean task which involves maritime domain awareness and having surveillance equipment to ensure we have an effective response mechanism. And by the time the regional maritime strategy between ECOWAS and Economic Community of Central African States, (ECCAS) is established, we will have a perfect structure, while the countries would have acquired the necessary experience."
Also speaking, Mr Felix Henkel, Abuja Regional Office Co-ordinator, Friedrich Ebert Stiftung Foundation, said there was the need for enhanced civil society awareness on ways to tackle threats to maritime security.