By FRANKLIN ALLI
DANGOTE Cement Plc has called for immediate implementation of the new cement standards in the country. The company also said its current production capacity will hit 29 million metric tonnes by August this year with an additional nine million metric tonnes.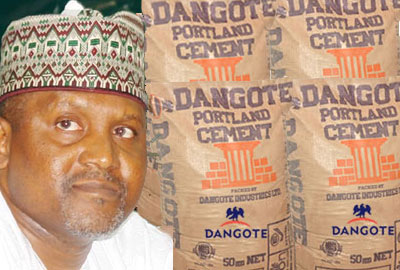 The new cement guidelines mandated local manufacturers to incorporate the following information on their bag of cement: CEM I 52.5R and 52.5N for use in the construction of bridges; CEM II 42.5R, 42.5N for use in the casting of columns, beams, slabs, blocks moulding; CEM I & II 32.5R, 32.5N for plastering of buildings only.
Etim Ekanem, Director, Dangote Cement Plc, while stating the company's position on the new cement standardisation, said, "We call on SON to immediately go ahead and implement the new standards; yes, it may be a bit expensive but it doesn't take time to switch over to 42.5. Lafarge can do it; in fact, they are already doing it; if you look at their total production, a percentage of it is 42.5.
"Before the advent of 32.5 grades in the country, cement manufacturers including Lafarge were doing 42.5 when they were Blue Circles in WAPCO and Lafarge in AshakaCem ; everybody was producing 42.5; I would also refer you to a paper done by the Director General of SON that every cement company has the capacity to immediately switch over to the production of 42.5.