Nigeria Basketball Federation (NBBF) has slammed N150,000 fine on Gombe Bulls for their supporters' invasion of the court in their Match 32 against Mark Mentors of Abuja.
A statement by NBBF Media Officer, Patrick Omorodion, said that the fine was followed by a stern warning for the club to avoid a repeat of such.
According to the statement, the federation took the decision based on the unlawful disruption of the game by invading the court and attempted physical assault on one of the match referees.
"The DSTV Basketball League has no tolerance for any form of violence or hooliganism, hence, we will enforce without fear or favour, severe sanctions to checkmate such tendencies.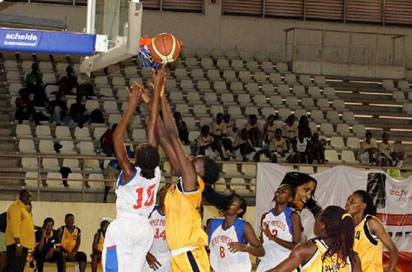 "Gombe Bulls are now placed on notice and such actions shall not be tolerated from its supporters or anyone connected to it.
"We will without hesitation, banish your team to play its home games away at a neutral venue acceptable to the federation or out rightly ban your team from the league to serve as example to teams that employ unfair, unlawful and unacceptable tactics to win games at home," it said.
Gombe Bulls was the third club to be sanctioned by NBBF in the 2013/2014 season for acts capable of disrupting the DSTV Men's Premier League. They sanction is coming after that imposed on Royal Hoopers of Port Harcourt and Niger Potters of Minna
In another development, Coach Ahmadu Abbah of Taraba Hurricanes women basketball club of Jalingo said his club has lost all hopes of qualifying for the Zenith Bank Women Basketball League final eight play-offs.
Abbah said this on Thursday in Ilorin after his team lost their sixth match 26-79 to defending champions First Deepwater at the league's second phase.
NAN reports that the loss came with only one match to go at the ongoing second phase of the competition's 2014 edition holding in Ilorin.
The coach however expressed optimism that the club would be better next season and go on to qualify to play in the final eight play-offs.
"Having lost all the six matches we have played so far, and with only one match to go, we know we cannot make the final eight play-offs in Lagos.
"But there is an improvement this season, better than when we played last season, when we could not hit the basket nor defend.
"Other clubs were scoring freely against us, beating us with almost 100-point margins. But, here we are today, and we held the defending champions to a lesser margin. So, we are coming up gradually.
"I am sure that by next season, we will spring surprises because our target will be to be at the play-offs," Abbah said.
The coach who doubles as the club's Chairman however said it was a matter of time before his club becomes a force to reckon with in the league.