BY GBENGA OLARINOYE
OSOGBO—THE political situation in Osun State ahead of the forthcoming gubernatorial election, has taken a dangerous twist as Governor Rauf Aregbesola yesterday set up a four-man commission of inquiry to probe the recent attack on the first executive governor of the state and governorship aspirant of the Peoples Democratic Party, PDP, Alhaji Isiaka Adeleke.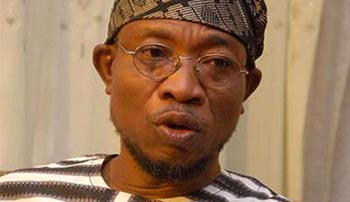 Adeleke, a former Chairman, Senate Committee on Independent National Electoral Commission, INEC, was allegedly attacked few days to the PDP governorship primary election at the Ideal Nest Hotel, Osogbo, where he had gone to attend a stakeholder meeting of the party.
The former governor, who reported the incident to the Police and the Public Complaints Commission, alleged that he was punched several times by the Minister of Police Affairs, Alhaji Jelili Adesiyan in the presence of Senator Iyiola Omisore.
In a statement by the state Attorney-General and Commissioner for Justice, Adewale Afolabi, in Osogbo, titled "Instrument Setting up a Commission of Inquiry on Disturbance of Public Peace Pursuant To the Commission of Inquiry Law, Cap. 29, Laws of Osun State, 2002," the commission was expected to begin sitting today.
Reacting to the setting up of commission of inquiry, PDP governorship candidate in the August 9 election, Senator Omisore, through Prince Diran Odeyemi, Director of Research and Publicity, Omisore Campaign Organisation, said; "We are not surprised by this meddlesome of Governor Aregbesola in pure PDP affair, which was a build-up to our primary election. Before now, Aregbesola has combed the courts in Osun State in search of issues and matters that could nail Senator Iyiola Omisore without any luck.
"We were also aware of the orchestrated plan to assassinate Senator Isiaka Adeleke few days after the minor misunderstanding at Ideal Next hotel so as to pin it on Omisore and from there initiate another Bola Ige-like conspiracy theory. This again failed. Several attempts have been made by Aregbesola to draw PDP and our candidate out for a battle, but we refused to join him in his trade. Now that he has set up a panel, we can preempt the outcome. The assignment is to indict Omisore, whose main offence was emerging as PDP candidate that will challenge Ogbeni Aregbesola in the August 9 election.
"We wonder why Aregbesola is crying more than the bereaved rather than allow whoever is aggrieved to challenge in the law court whatever is regarded as assault during the pre-primary meeting at the hotel premises."