By ANOZIE EGOLE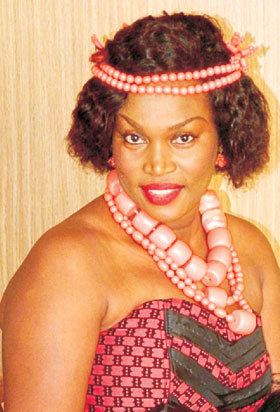 Why did you choose to be a publisher and a TV presenter instead of being an actress?
As a child , I had flair for media especially TV and I once starred in the now rested soap opera, 'The Cross Road' on Muri International TV but due to pressure of starting a family, I sacrificed my ambition of becoming a renown actress and chose to build my marriage. Nevertheless, my husband is an encouraging one.
Though he never liked acting, he didn't stop me from delving into other ventures that will make me a fulfilled woman and that is why today apart from owning a magazine of high standard, I also have a TV programme I tagged, 'Accolade Lifestyle TV' which will soon hit the screen. Aside having the flair, I have always looked for a medium I can use to impact lives positively.
Electronic and print are the best media to use. So, when the opportunity came for me to kick-start, I started with print media which we all know is challenging but with perseverance, we are able to stand the test of time and today, we are fully set for 'Accolade Lifestyle' on TV.
Tell us more about your magazine
The publishing of Exclusive Accolade International Magazine, EAIM, kick-started in Makurdi, Benue State with a print of 40 pages of events, interviews and articles, but we realized that we had more patronage in Abuja and we decided to unveil EAIM in an impressive 'Yellow Ball' dinner which played host to high profile personalities with over 12 Nollywood Stars at Sheraton Hotel and Towers Abuja and today, we are in our 19th edition with a print of 156 pages.
EAIM is designed for feature events, articles, interviews, adverts and it's purely image making.
What challenges did you face when startingthe magazine?
I don't acknowledge challenges because I see them as motivating ground but for those who intend to come on board as publishers, the challenges that must be expected in this business are numerous but one can always overcome them.
The starting point is rough but after a while, one begins to make it especially when the contacts made during the course of publishing begin to pay off with other rewarding deals. Most people love publicity but do not like to pay for it.
What plans do you have for it in the future?
I desire to own a media empire and I can see Accolade there in the nearest future.
We learnt that you were appointed the event consultant and manager for the Enugu State Fiesta by Enugu state Government. What is your achievements so far as the event consultant?
Accolade Media is the event management company for Enugu Fiesta and we have delivered impressive results so far since 2012 that we were engaged but I want you to know that it is team work.
The Commissioner for Culture and Tourism Ozo Joe Mmamel also put in his best to ensure that we do not fail. So, I will not want to take all the credit.
There is also a woman who when we encountered difficulties, I mean Accolade and Min. of Culture and Tourism, she stepped in to ensure that everything went smoothly and that is the Chief of Staff to Enugu State Government, Hon.Mrs. Ifeoma Nwobodo.
I used to feel bad at the wrong attitude most women give to themselves but she is an exception. Our landmark achievement is awesome.
We possess a strong pedigree in event management and consulting and that is why when we are given opportunity by any organization, we are always retained after our first encounter with them .We also sourced for fund for Kogi State carnival 2013 and even at the last minute, we were able to record good results.
Apart from magazine and TV, what else do you do?
In life, even when you have businesses that yield huge income from time to time, you will survive better when you have other income avenues where cash-flow may be little but constant and that was how I added a laundry and dry-cleaning services (ACCOWASH). We also do photography and video coverage for all classes of people.
What would you say stands you out from everyone else?
My attitude and the way I carry myself with sense of humility including my mode of dressing which is native but posh and decent.
What's your take on women empowerment and girl child education considering the house you built for your mother?
Well, it is obvious now that women now alleviate the poverty in their homes, gone are the days when the girl child is left to rot at home and not go to school but rather driven into early marriage. Parents understand better now.
As for women empowerment, it is good for government to consider having women in high positions of authority. The only problem I have with that is that women don't assist each other to grow. Once they get there, they will rather use their position to intimidate and humiliate each other instead of lifting one another.
Nevertheless, we still have good women who will stop at nothing to see to women liberation.
I remember meeting Senator Bent as a starter. She attended my event then and ever since, she has always been there for not only me but other women.
My first yellow ball in Abuja was also hosted by the wife of benue governor, Dcn. Yemisi Dooshima Suswam and Lolo Nneoma Rochas Okorocha is a motivator whose words of encouragement kept me on my foot at all times.
The Minister for Women Affairs, Hajia Zainab Maina is another person who will never forget one's name because she is now a minister. Mrs. Alayingi Sylva is also one woman that carried other women along and Mrs. Tosin Dokpesi is another whose good work on helping fellow women can never be swept under the carpet.
I wish every woman will learn from these women and begin to think of how to impact lives of other women who need just a little push to have their dreams come true.
The First Lady,Dame Patience Goodluck Jonathan has a good vision through her project 'Women for Change Initiative' but can only succeed with people with the same heart and vision or she should rather start with 'Women Attitude for Change Initiative.'
Subscribe for latest Videos