By Bisi Lawrence
Some developments in the continuing saga of uncontained terror visited on Nigeria by the Boko Haram terrorists are becoming frightening. They indeed need to be carefully evaluated as their implication may call for a better apprehension of our predicament, and thus the ordering of a more adequate responsibility in our conduct.
One has often wondered, to begin with, how correct is the term "insurgency", as applied to the situation in the Northern parts of the country. My dictionary identifies that description more with "riot", "uprising"" or a situation which involves an upheaval among the people of an area within one another.
It becomes a civil war when it implicates the entire populace while, on the other hand, it is war, plain and simple, if it is an attack inflicted by other elements though comprising some of the natives themselves.
The latter is what seems to be happening, although it might have taken off originally among the natives of a certain section of the country. But there is a lot of evidence that the motivating spirit and personalities are foreign to this country.
For one thing, it is most unlikely that the enormous amount of money required for the arms and the funds demanded by the logistics, are generated within Nigeria. The source of these expenses should have been on the front burner in the efforts to combat this evil force right from the beginning as it was suggested by many people on many occasions, but the idea did not appear to catch the fancy of those in charge of the investigations immediately, or it should not have taken so long before we hear anything positive in that direction.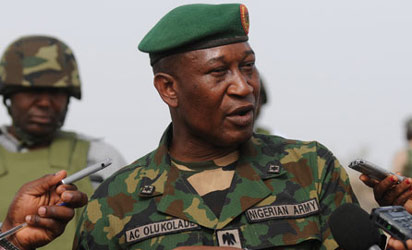 It is all the same disturbing, very disturbing, to learn that some strongholds of the Boko Haram are being refurbished with supplies by helicopter. It is a deposition that is mind boggling. In fact, one might have credited such a statement to a deranged person had it not been made by personalities that could never be associated with a lunatic proposition.
The leader of the group is no other than a former Chief of Air Staff, Air Vice Marshall AI-Amin Dagash (Retd). The revelation was made at a press conference in Abuja early this week, at which were also present a former Minister of Finance,
Mallam Adamu Ciroma; a former Secretary to the Federal Government, Ambassador Babagana Kingibe;Shetima Mustapha, an elder statesman, and other political figures and opinion makers in Bornu and Yobe States. They were grouped under the identity of the Political Elders Forum from the two States which are both in the centre of the Boko Haram storm. But they were not just belching out hot air because, as very knowledgeable and directly affected citizens, they asked a few worrying questions, like:
ltem:"How were the insurgents able to attack the Maiduguri Air Force Base and demobilise as well as burn planes and other military installations despite existing state of emergency and curfew existing in the town?"
Item:  How could 20 to 30 Toyota Hillux vehicles move in a convoy freely with subsisting curfew and still go undetected?"
Item: How did a little band of rag-tag misguided youths metamorphose into a well-kitted, well-armed killing machine, moving freely in convoys of vehicles and supported by helicopters?
Item: How did the Shilka Tank,a multi-purpose, self-propelled anti-aircraft artillery weapon positioned to secure Giwa Barracks,fail to function,resulting in heavy loss of lives of both civilian    and military as widely reported in the media?
Item:Are the authorities unaware of helicopters dropping arms and ammunition, food and medical supplies to area well known to be stronghold of the insurgents?
Item:  Are we dealing with fifth columnists in this crisis?
Well, what can we say? Major-General Chris Olukolade, the Defence spokesman, has warned—threatened(?)—to make anyone pay dearly for making statements that are considered untoward to the military war effort. None of the rhetorical questions above could be said to be complimentary to the total effort against the Boko Haram. But the calibre of the speakers promptly dismisse any misgivings about their motives. They are genuinely patriotic, more so since they are in the heat of the situation. If this is war, not a mere insurrection as we have frequently pointed out on this page, have we really got our act together?
Other aspects of this crisis indeed give cause for anxiety with regard to its conduct, and that is without prejudice to our appreciation of the gallantry and bravery of the armed forces. There appears to be lack of direction in support of what is a single purpose, that is, the eradication of the Boko Haram menace. In relation to this, we may ask, should the President of our nation be engaging openly in a nauseating blame game with State Governors over who is responsible for the mess we are in?
It is time we stopped searching for a peg on which to hang the dilemma of the predicament in which we have found ourselves. It would be a time-consuming and profitless enterprise. The cause may have sociological or economic roots, as many have suggested. It may be because of our evident neglect of planning a good future for our youth. It may be all of that and more, or a combination of other factors. But the question now is how do we put this horror behind us without creating others in its place?
A good approach would be to dismiss distractions. Okay, I know it has been said before, but it will bear repeating. Nothing will be said here from now on about the staging of the preposterous show titled, "The National Conference".
It would be merely adding to the preposterousness of the mirthless comedy. Now that so many of our eminent men and women are already on the gravy train, we shall just have to wait until the bread wagon rolls to a stop. In the meantime, it may be very difficult not to ask some of these questions. And here is the last one for now: Is the issue of the Boko Haram considered inimical to the unity and progress of the nation enough to for it to be an item on the agenda of the National Conference?
dis na we kontry
The discovery was made in Soka off the Lagos-lbadan Expressway. An enclave of unmitigated dreadfulness established for the sole purpose of slaughtering human beings and dismembering the cadavers for sale, had apparently been functioning there for an appreciable period.
The unfortunate victims were kidnapped, sometimes cruelly tortured and then ruthlessly disposed of, while the hapless relatives pined for their return in vain. Investigation, to employ a new cliche in the market, "is on-going".
When one has recovered from the shock of the story, and that takes a while, the truth then gradually sets in:we are in Nigeria.
Look, a newly-married man cannot operate his little fan because there was no electricity supply, like the rest us, in his house. However, he has a generator, like many of us these days. But fuel is hard to find except "on the black". How for do ? So he gets five litres for one hundred-and-twenty naira per litre and goes home to his "honey. They put on the generator, switch on the fan and everything is fine — except that the "gen" is in an enclosure at the back of the house and the fumes have no means of escaping.
Neither does the young man who sleeps on into the arms of untimely death with his pregnant wife and a younger relation. In Port Harcourt where it happened, they will tell you, "That na Naija,fara!" Soko, an off-shoot of Nigeria's busiest highway, on the outskirts of one of Africa's largest cities, is the scene of one of the most barbaric human butchery imaginable. That is Nigeria for you.
And what would anyone want with the dismembered parts of a human corpse? As if you did not know. Affluence, of course! Juju or "black magic" that is reputed to be capable of procuring immense wealth, and business or other forms of successes in a variety of endeavours. Don't ask me if it works. Just look around Soka and you would know that you are in the middle of a booming factory of skulls, and limbs, and genitals—the dismembered carcases tell it all.
If it did not work, there would not be so much patronage. There should therefore be no high hopes for finding out more about this inhuman criminal enterprise since investigations find progress a challenging ordeal in the face of affluence and influence. May God rest the souls of all who have been banished from life through this route. Who knows how many others remain undiscovered. This is our country, Nigeria.
Timeout.