By Judith Ufford
IMAGINE! Omisore flagged off his campaign here (Freedom Park) and he had the nerve to say Aregbesola hasn't completed any project. If this place was not completed, how did it become available to him to have a campaign rally? Any way, we'll soon change the name from Freedom Park to Nelson Mandela park".Why Mandela, asked one of his listeners. South Africans wouldn't name a facility after Awolowo, for example.
"Well, that's their business. We're pan-Africans," was the curt response. Hmmm, Pan-Africanism. Of what benefit has it been to the average Nigerian, this reporter wondered as the tour bus navigated a narrow path avoiding a jam in this busy Osogbo traffic.
Number of projects
Ahead was the just completed Salvation Army High School but it was not novel to this reporter because it was a high point during the last visit.
But what struck a chord this time around is the number of projects the state government is embarking on now. To say Osun is a massive construction site or work in progress is but stating the obvious.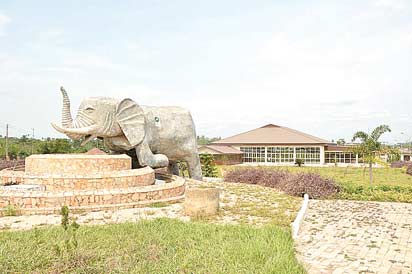 From road infrastructure to educational facilities and infrastructure, agriculture and tourism; even sports is not left out of the picture as the state's stadium is also under reconstruction. No doubt, Osun is one state in a great 'catch-up' game. What changed this development equation? Why the hurry? some might ask. The answer is in the Renaissance Capital.
Tipped as the seventh largest economy in Nigeria, Renaissance Capital, a leading emerging markets investment bank in Africa has revealed that Osun, Ekiti, Lagos and Oyo states are the leading economies in Nigeria. And this is no speculation as they have indices to back up their claim.
Highest per capita income states
Also included in the ranking are Akwa Ibom and Rivers states, oil producing states in the Niger Delta region; while Kaduna, Katsina and Kano states also made the list of highest per capita income states in Northern Nigeria.
According to the Renaissance Capital experts, consumer companies are likely to find the greatest opportunities in states with highest per capita income. Continuing, they noted that Akwa Ibom and Rivers in the South-South and Osun in the South West will embrace retail banking given the opportunities for banks to expand services and the employers in these states with high per capita income and high population densities.
Renaissance Capital noted that they provide the footfall required for a bank to open a branch nationwide. The report stated thus: "We think consumer companies are likely to find the greatest opportunities in the states with greater purchasing power as indicated by relatively high per capita income, including Lagos, Oyo and Osun in South-West and Kaduna and the Niger Delta states".  Perhaps, it is against this backdrop that a Briton who visited  Osun recently described the potentials in the state as great possibilities for development.
But Osun's arrival at seventh largest economy in Nigeria is not an accident. It is deliberate and calculated effort by the Aregbesola administration to get the people out of what he described  as 'grinding' poverty. According to him, on assumption of office, he saw two extremes – the very old and the child. Most young adults had abandoned the state in search of white collar jobs leaving their children with their parents.
Avenues of leakages
To reverse this trend, his administration had to make jobs available. It began with the blockage of all avenues of leakages in the state's revenue. The effort paid off with Internally Generated Revenue, IGR, ballooning from a mere N300million to N1.6 billion. Added to this was economic policies targeted at growing the economy.
These efforts yielded results as the GDP rose from N110 billion in 2010 to N800 billion in 2013. The ranking of Osun above states such as Anambra,Enugu, Imo and Ebonyi is an indication that economic activities in Osun are far higher that these other states.
In terms of road infrastructure, for example, a total of 218km roads construction project is ongoing with some already completed in 30 local government areas. A five to 10km of municipality roads are being constructed in each local government area. This is innovative because the project is financed by both the state and local governments from resources (savings actually) from the Local Government Excess Crude Oil, ECO, Account. The activation of small scale businesses is also helping the state cure 'diseases' of lack and deprivation.
A step in this direction is the new partnership between the Federal Government and Osun State to turn the moribund Federal Government Industrial Centre in the state into a life academy where skills acquisition will be everything the centre does.
Already the government has attracted an Italian company, Global Impianti for knowledge transfer on the business of shoe making. To this end, a micro credit is being set up for every graduate of the academy so that graduates can access funds for their operations.
To ensure its success, the government has set aside N4 billion to boost small-scale businesses in the state.
The State Commissioner for Finance, Wale Boluwaduro, while explaining some of its programmes to boost the economic empowerment of the citizens recently said: "In the next dispensation, we plan to provide Micro Medium Fund to traders, agric farmers, etc – it's a World Bank product of N2 billion.
"But, we are backing it up with another N2 billion to make N4 billion. The minimum each person will get is about N1.5million. We could use that to pop up commercial activities in the state," he said.
Commercial activities
While stressing the impact of the administration's economic programmes, the Commissioner said: "The National Bureau of Statistics has shown that Osun as tiny as it is with 34th position in terms of revenue allocation from the Federation Account, is the seventh largest economy in the federation in terms of GDP and it's put at over $9billion.
"When Mr. Governor (referring to Rauf Aregbesola) came in, the figure handed down by NBS then was $4billion. So, within a period of three years, we have moved to $9billion. Osun is 10,000 square meters larger than Lagos. GDP of Lagos is over $35billion".
He added: "We can make more money than Lagos if we properly harness the opportunities that abound in the state. In terms of GDP per capita, which is the term in which standard of living is measured, Osun actually is number two after Lagos. In terms of standard of living, the Governor has been able to deliver on that," he added.
As part of government's effort to industrialise the state, a garment institute, Omoluabi Garment Institute now provides employment to citizens of the state.
In addition, a telephone manufacturing   company in Ilesa – Adulawo Technology Institute which produces phones and its accessories as well as laptops, is also providing employment in Osun State.
As part of its beautification and tourism efforts, the landscaping of Asejire Interchange beckons. The area once known for its ghastly auto accidents and armed robbery attacks is been turned into a tourists' haven. A few miles from Asejire Interchange, a recreation park named after Hassan Olajoku – one of the foot soldiers who laid down his life in the struggle to reclaim the mandate of the Osun State Governor, Rauf Aregbesola – has also changed the ambiance of Gbongan town.
Osun State Commissioner for Regional Integration and Special Duties, Bashir Ajibola, explained the motive behind the park.
"For us, it is about extending the frontiers of development through environment. You know if you want to attract people to develop the economy, you have to attract people to spend in that economy and people don't go to uninviting places. They want to feel welcome, relax and have a feeling that this is a place they can be.
"This is why we are committing ourselves to ensuring that we extend the frontiers of development through improved environment. That is what we are doing there. The political import of what we are doing there is also historical and this is not lost on the people. It was at this particular spot that one of the big supporters of our movement to Osun, Hassan Olajoku was murdered while we were returning from a rally at Ilobu.
Boosting the economy
"So, the project is to eternally immortalise Hassan Olajoku and shame those who thought that by killing him, they had killed the effort at taking over governance in Osun State. These are some core reasons that informed the project.
"So the park was built by government for relaxation, pleasure, fun, resort and basically to boost the economy of the state."
Continuing, he added: "Don't also forget that Gbongan is a major gateway to the state capital, Osogbo and the park will serve as rest point for people travelling through the road to Ibadan.
"I mean that people, after such travelling, will want to relax, eat pounded yam, bush meat, drink some palm wine and do whatever take their fancy. So we are creating a nice place for people to rest in a healthy, nice looking, highly refreshing, inviting and welcoming environment with modern facilities that are comparable to anywhere in the world."