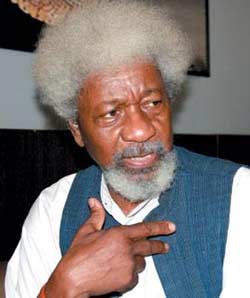 Soyinka
*'Can't share honours with Abacha'
By OLA AJAYI,  Ibadan
Nobel laureate, Professor Wole Soyinka, said, yesterday, he rejected his nomination for centenary award by the Federal Government because he could not share the award with the late Head of State, General Sani Abacha, who he described as a "murderer and thief of no redeeming quality".
"I can't think of nothing more grotesque and derisive of the lifetime struggle of several of this (Honours) List and their selfless services to humanity", Soyinka said in a statement entitled, `The Canonisation of Terror'.
"I reject my share of this national insult", he added.
Listing some of the atrocities that took place under Abacha that made the late Nigerian leader of undeserving of the centenary award, the Nobel Laureate said: "It is a confidence trick that speaks volumes of the perpetrators of such a fraud. We shall pass over – for instance – the slave mentality that concocts loose formulas for an Honours List that automatically elevate any violent bird of passage to the status of nation builders who may, or may not be demonstrably motivated by genuine love of nation.
Accordingly,  generalized but false attributes to known killers and treasury robbers is a disservice to history and a desecration of memory.  It also compromises the future. This failure to discriminate, to assess, and thereby make it possible to grudgingly concede that even out of a 'doctrine of necessity' – such as military dictatorship –  some demonstrable governance virtue may emerge, reveals nothing but national self-glorification in a moral void, the breeding grounds of future cankerworm in the nation's edifice.
"Such abandonment of moral rigour comes full circle sooner or later. The survivors of a plague known as Boko Haram, students in a place of enlightenment and moral instruction, are taken to a place of healing dedicated to an individual contagion – a murderer and thief of no redeeming quality known as Sani Abacha, one whose plunder is still being pursued all over the world and recovered piecemeal by international consortiums – at the behest of this same government which sees fit to place him on the nation's Roll of Honour!"
Also read Prof. Soyinka's statement, The Canonisation of terror