By OCHEREOME NNANNA
Suspended (not "sacked', as some mischievously or ignorantly put it) Governor of the Central Bank of Nigeria, Malam Sanusi Lamido Sanusi, is a double-edged sword: he cuts both ways. In his five years of reign at the apex bank he has been able to demonstrate his ability for good and foul deeds almost in equal measure.
When his predecessor, Professor Chukwuma Soludo, held fort at the Bank, he was able to save the financial system and the economy at large from the global economic meltdown with his highly successful consolidation of banks. He raised their capital bases to levels where they can today feature, not only as continental giants but also as global competitors.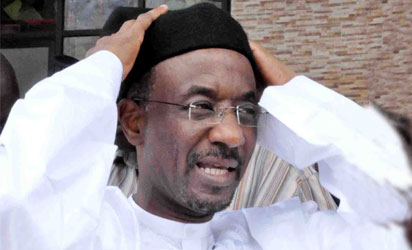 But towards the end of Soludo's tenure, rot and lethargy had set in, and horrible insider abuses held sway. Owners, directors, managers and operatives of banks started looting depositors' funds unchecked.
When Malam Sanusi Lamido Sanusi arrived in June 2009 as the new CBN Governor, he showcased exploits of a two-edged sword. Coming from risk management background, he sacked a number of errant bank executives.  He separated some banks from their founders who committed some of the most monumental acts of thievery on record at that time.
To save the banks from collapse he supported them with public funds and later sold them to new investors. But he also set up the Asset Management Corporation of Nigeria, AMCON, to arrest the incidence of non-performing loans in our banks. In other words, he was able to provide the cure to the disease that had set into the banking industry under Soludo. But that was where the good deed appeared to end.
Sanusi would have ended his tenure as a hero; in fact an industry messiah, had he restricted himself to the role of a central bank chief executive. His problem, which he transferred to the system (and which led to his current travails) was the unwholesome politics and his personal weaknesses which he brought to the job. Sanusi is an inveterate gasbag.
He is born to talk. Blest with the power of articulation and clear delivery, he loves to hear his own voice. Like people who have this kind of weakness, he often talks before he thinks. If Sanusi had been as conservative as his job demands of him, the nation would have saved much of the over one trillion naira that he had to pump into the troubled banks.
The most nauseating factor that Sanusi brought to bear on his call to serve was arrogance. Sanusi felt he was a sacred cow; an untouchable. Two things probably led him to this delusional Tarquinism. The first is the Central Bank of Nigeria Act 2007, which spells the appointment, tenure, powers and removal of the CBN Governor. The President of the country is empowered to appoint or sack the CBN Governor, subject to confirmation by two-thirds majority of members of the Senate.
After five years of grandstanding as a Northern protagonist at the apex bank, Sanusi felt sure that senators from the North alone can stop a two-thirds vote to oust him if the President made the move. This sense of political immunity led him to dare the President when he was recently ordered to resign over the leakage of his letter to the President alleging the "missing" of $49.8 billion.
Sanusi, who had earlier elected to serve one term and proceed on his terminal leave in March 2014 impudently, told the President he would now stay in office till June 2! That was why the President decided to suspend him to prove to him there are a thousand ways of killing a small rat. By the time he has finished his quixotic legal challenge, it will not matter whatever comes of it.
Servant of the President
Sanusi feels that as Governor of the CBN, he is no less free than other governors of states to spend, forgetting that state governors are elected and imbued with constitutional immunity. He forgot that as Chief Economic Adviser, he was a servant of the President.
His independence is meant to give him a free hand to do his job without interference but subject to accountability to the National Assembly and the President, his employer. Not knowing where to draw the line, Sanusi went on an orgy of reckless spending of the Bank's resources without appropriation or approval, donating millions and billions to disaster victims, schools and even political parties and individuals, all in the North.
The Financial Reporters Council of Nigeria, FRCN, accused him of awarding multibillion naira contracts and spending the Bank's money without approval of the Bank's Board or appropriation by the National Assembly. Happily, these allegations are being looked into to determine whether, as it seems on the surface, Sanusi has been bingeing inappropriately on the Bank's funds.
Sanusi's arrogance goes beyond the delusion of immunity conferred by the CBN Act. It originates from his roots. Being a traditional prince, he obviously carries the born-to-rule disease which makes some Nigerians feel they own the country and could do anything and get away with it.
Happily, only few misguided royals from North display this psychological affliction, at least openly. After all, the National Security Adviser to President Goodluck Jonathan, retired Col. Sambo Dasuki, is a prince of the Sokoto Caliphate itself, to which the Kano Emirate ranks fourth or even fifth. You hardly hear him or see him throw his weight around.
The Sultan of Sokoto himself, His Eminence, Alhaji Saad Abubakar III is one of the most pleasant, down-to-earth, and open-minded monarchs who does not carry his exalted position like a heavy load as Sanusi carried his princehood of the Kano Emirate. Sanusi, for instance, is fond of wearing the robes of an emir, turban and all, to office, as if urging for the reigning Emir of Kano, Alhaji Ado Bayero, to move along for him to ascend the stool. He makes no mystery about his ambition to succeed Bayero who is still alive, kicking and ready to outlast those counting his days on their fingers.Sanusi is practising how to be an emir while governing the nation's apex bank.
As the Governor of the CBN, I am not sure that it is the job of Sanusi to be a whistleblower over alleged cases of corruption, at least, not the way he went about it. As a whistleblower, he came across as totally incompetent and unconvincing.
I say this because this was the same Sanusi who, along with the Minister of Finance and Coordinating Minister of the Economy, Dr. Ngozi Okonjo-Iweala and the Minister of Petroleum Resources, Mrs. Diezani Alison-Madueke, went on live television to defend the fuel subsidy regime which a probe later exposed to be the biggest fraud and drainpipe of the economy ever experienced in Nigeria.
This was in January, 2012, when the going was still good. But perhaps a little later on when the opposition parties started coalescing with a view to using a Northerner to snatch the presidency from Jonathan in 2015, Sanusi's whistles became shriller.
He did not even bother to crosscheck his facts before rushing to the media to allege $49.8 billion was missing. When the Finance Minister corrected him, he brought the figure down to $10 billion, only to adjust it again to $20 billion. I hope the forensic audit expedites action to clear the air as to whether any money is missing, and who took it. Let Nigerians know the truth. But Sanusi would have performed a truly patriotic duty to Nigerians if he had ensured the veracity of his allegations before shouting at the rooftops.
Sanusi came with chaos to the CBN. He has left it with chaos. He has not left it better than he met it. All his positive contributions have been drowned in the cyclone of confusion created by his impulsive garrulity, barefaced nepotism, sectional arrogance, political adventurism, squandermania and insubordination to constituted authority.
In a chat with editors in Lagos shortly after his shove aside, Sanusi told us he would write his memoirs "in about 20years time". I hope we all live to see it in print. Meanwhile, I suggest he should entitle it: How Not To Be A Central Bank Governor.