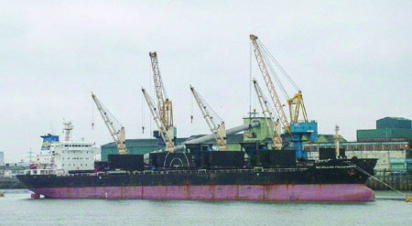 *Maritime
By Godfrey Bivbere & Olaitan Ayoola
PRESIDENT Goodluck Jonathan has said that the Federal Government will soon forward four maritime bills to the National Assembly for consideration and passage into law.
The four bills include:  National Transport Commission, NTC, bill, the Railway bill, the Ports and Harbours bill and the Inland Waterways bill.
Jonathan, who spoke at the opening ceremony of Nigeria Maritime Expo (NIMAREX) in Lagos, said the bills are part of the Federal Government's efforts to ensure that the benefits of the industry are maximised.
The President who was represented at the occasion by the Minister of Transport, Idris Umar "Let me use this opportunity to state that government have granted approval for the Nigerian Shippers' Council to act as Economic Regulator at the ports, with the effective administrative backing of the Federal Ministry of Transport pending the passage into law of the National Transport Commission bill which seeks to establish a National Transport Commission which shall among other function serve as the economic regulator in the transport sector.
"It is also pertinent to highlight that three more transport sector reform bills namely: the Railway bill, the Ports and Harbours bill and the Inland Waterways bill will soon be considered by the Federal Executive Council before transmittal to the National Assembly."
He further noted that giving the importance of the industry to the economy and the desire of government to continuously harness its potentials, a phased implementation of the recommendations of the outcome of the presidential retreat on the maritime sector was considered with the re-introduction of bunkering service.
Other recommendations of the blue print will be considered and approved for implementation on a case by case basis as considered expedient by government, he concluded.
Chairman at the occasion, Gen. Ibrahim Babagida (Rtd.), commended that organizers of NIMAREX for using it to x-ray the industry from where it is presently with a view of moving it forward in line with Nigeria's dream for vision 20:20:20.
While calling on the private sector to work closely with the government in developing the industry, Babagida who was represented by Gen. Raji Rasaki (Rtd.), listed some of the potential investment areas as port sector, ship/cargo services, ship brokerage, warehousing/banded terminal, chandelling, ship building/repairs etc.