By Paul Bassey
Henry Agbamu is the chairman SCOA Nigeria PLC.
His knowledge of football is uncanny, so much that he is quick to tell you " I am in the wrong profession. I should have been a coach, not selling cars….."
Henry Agbamu has always planned his vacation to fall on major FIFA football tournaments and to him, it does not matter whether it is Under 17, 20 or Super Eagles. As long as it is Nigeria playing, expect Henry Agbamu to find his way there.
"…….Forgive me, I have a marked passion for football. I can read it, talk it and sleep it all day long. I know it more than my professional job, trust me……."
These are the traits that got him invited to last Tuesday's meeting of the Association Of sports Veterans Nigeria, an opportunity he seized with both hands to "talk sports" given the caliber of members in attendance.
In a pre meeting discussion, Mr Agbamu wanted to know the structure of the Eagles set up. Who, he asked, was the Manager, who was the coach and who, the trainer?
The question took all of us by surprise. Then all eyes were on me. As member of the NFF Technical Committee, I was expected to provide answers. General Gregory Adebiyi retired, former Technical Committee Chairman of the NFA attempted to answer, but members were not very convinced.
I said under the present disposition, Stephen Keshi was the manager, the coach and sometimes the trainer and that Amokachi was the assistant coach with Ike Shorunmu as the goalkeepers trainer.
They were not impressed.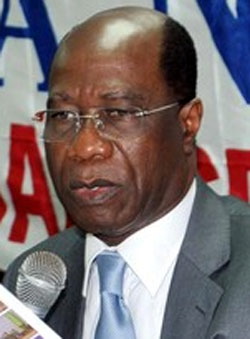 The debate that followed hinged on the definition and job content of the positions so mentioned with examples given in Europe and in the Westerhoff era. They suggested that Coach Keshi should be the manager, there should be a coach (es), with a trainer(s) in tow.
I reminded them of the rested controversy surrounding the need for an assistant coach for the Super Eagles. Rested in the sense that Keshi came out to say he did not need any assistant and Nigerians asked that his views be respected.
Henry Agbamu was not done. He now wanted to know which player was the team leader. He cited instances in the past, especially in the Keshi era and before when there was need to have a strong personality as a players leader, one that will be able to galvanise the players to action, on and off the field.
He also dug into Nigeria's football history when the country has benefitted from such an arrangement when the leader was also the skipper of the team "……But when you end up with a team leader and spokesman who is not the captain of the team, then disaster lurks…." He argued.
In the present dispensation, he wanted to know who the team leader was. Some said Enyeama, others said Mikel Obi. As the discussion progressed it appeared the Super Eagles lacked an authoritative and influential player who can be called upon by the coach to either transmit a decision or help to convey the general opinion of his colleagues to the authorities.
Henry Agbamu was not done. Is there a natural left footer or two in the Super Eagles? None that we knew of. He recounted a piece of advice he gave to Coach Hamilton several years ago, to go look for players who are naturally gifted with the left leg.
" …..We that use right hands and right legs are too many. Those that are left inclined are very few and with due respect more intelligent than we are….Bill Clinton, Haruna Ilerika, ….Robben, ….Obama, Raji Fashola. Every team needs a player that can effectively use his left leg, one that the coach can use to good effect when it comes to effective wing play, split second change of direction and so on…..
We were pressed for time. The meeting was to rise and pay its last respects to Alhaji Demola Ali alias Fireman the late PRO of the veterans, Nigerian and West African table tennis champion, longest serving image maker of the Nigerian Olympic Committee who was lying-in-state at his residence that afternoon.
It was therefore decided to set up a strong three man committee made up of Generals Okaro and Adebiyi and Henry Agbamu to put the thoughts of the Veterans on paper and submit to the NFF as a contribution towards the country's successful outing at the mundial.
OF DZEKO AND OSAZE……
An in law, called me last Saturday to confirm whether I saw Osaze's fantastic 79th minute goal against  West Brom, I said I did.
He wanted to confirm that Man City's Edin Dzeko plays for Bosnia Herzegovina. I said yes.
See you next week