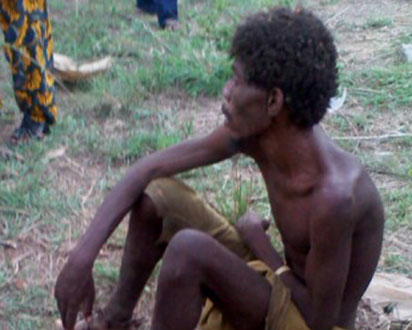 One of the rescued victims believed to have been bewitched and bound with fetters in a dungeon, in Soka, Oluyole local government area of Oyo State.
By OLA AJAYI, IBADAN
IT is certainly not a place for the squeamish and the faint-hearted.  The reason being that the gory sights there are not only indescribable but more than enough to give anyone serious nightmares. It is a place where you are immediately confronted with an overpowering aura of fear and death. Welcome to the now aptly named Soka Evil Forest in Ibadan, Oluyole Local Government where hundreds of kidnapped victims either met their untimely end or were languishing in agony before they were recently rescued.
Arising from the wickedness that pervaded the place and the horrors discovered there, it has become very unsafe to visit. For instance, Vanguard Metro was on entering the Godforsaken large expanse of land confronted by some mean looking fellows who threatened in a rough voice: "We will kill you; we will finish you". Going there without security protection is tantamount to suicide.
In fact, two media men were attacked. Mr. Felix Ademola, a photojournalist with ThisDay Newspapers was rough-handled by overzealous policemen while Bayo Faleke, a presenter with Splash FM was beaten by a mob and had his car badly damaged. The visibly angry and suspicious fellows could either be relatives of the missing persons or residents who have grown tired of reporting the dreaded place to the security agencies.
They felt  the current response was rather belated given their numerous complaints before now. The land which is in the heart of the sprawling city of Ibadan was found covered with several decomposing bodies of human beings who were unlucky to fall prey to heartless ritualists. The experience of entering the place immediately conjures the impression of a horror film. In fact, a Special Assistant to Governor Abiola Ajimobi who was on the entourage of the Governor suggested to a colleague of his that Governor Ajimobi should see these decomposing bodies.
Indeed the bodies were scattered allm over the place.  Only forensic experts can identify them because all that are left of most of them are nothing but bones of different shapes and sizes. Just yesterday, VM gathered that about five more fresh bodies were evacuated to the mortuary. Except those that survived, no one could determine the gender of the decomposing bodies.
Apart from the numerous dead bodies, school uniforms, women underwears,  a pair of security boots, several pairs of shoes, baby wears and thousands of clothes littered the place, especially the big hall and  the open field.
The place has attracted thousands of people across the country whose relatives are missing. Some came from Kwara, Osun, Lagos and Kogi states as well as from Northern parts of the country.
Governor Ajimobi visits the den, revokes certificate of occupancy of the land
When Governor Ajimobi got to the scene, he tried to calm the crowd of angry individuals who laid siege to the place, pleading for  patience and attention. He explained that the visit was to sympathise with families of those who lost their loved ones to the kidnappers, get to the root of the incident and get all the suspects arrested.
He said: "The reason why we came here today was because of an ugly incident that happened. We were informed that you, the residents, did not know what was happening here. As you did not know, so we, too, did not know. If you who live in the neighbourhood did not know, how then can we who live far away know? But, we thank God for exposing all these. All those who did these horrible things, God would expose them. We whom, you have entrusted the governance of this state through your votes, God will use us to punish the culprits. As you say amen, God will use us to reform the state. If we would not reform it, God should deny us getting there(governorship seat).
"As from today, try to be vigilant. I have learnt a lesson from this: anywhere we are, let us be very vigilant and not hesitate to report matters like this to the security agents." His speech was however, intermittently interrupted by several voices claiming that many reports of the what was going on there were made without a corresponding response from concerned authorities.
Governor Ajimobi then revoked the Certificate of Occupancy of the land, promising that all the victims alleged to have been hidden in an underground tunnel will be found "when we dig the whole place". Residents in the area loudly applauded the Governor's decision to revoke the hundreds of hectares of land. He then told the people to observe a minute silence for all the victims .
Survivors at Adeoyo Hospital
After much resistance, the hospital officials and security men at the Adeoyo State Hospital, Ibadan grudgingly allowed some newsmen few minutes to have a chat with the survivors, but bluntly refused to allow anybody to take their pictures.
While speaking with some of the survivors whose names are Nafiu Shittu, Michael Ola, Mrs. Titi Adeniyi, nee Dokpesi and Wale Atoyebi, indications emerged that they were victims of hoodlums who capitalised on the urban renewal initiative of the government by arresting some hawkers under the pretext that they violated the environmental law even though they did not have the authority of the government to do it.
Herbal medicine
One of the survivors, Nafiu Shittu who spoke with VM was able to recall how he fell victim of these undesirable fellows. He said he was selling his herbal medicine at Agodi Gate when some men swooped on him and forced him into a waiting car. "I was sitting somewhere at the Agodi Gate area of Ibadan when some people just swooped on me and rushed me into a vehicle. I had been in that place for four months. In the forest, we might not be given food for a whole week. People were dying," he said.
Another victim who is a woman claimed she was related to the late Chief Obafemi Awolowo family. Mrs. Titi Adeniyi,nee Dokpesi,  said she was picked up at the front of her house and forced into  a vehicle and later found herself in the evil forest.
She said: "I am from the compound of the late Baba Awolowo of Oke Bola in Ibadan. Some people came and kidnapped me while I was sitting in front of our house. Nobody was around then. My people were in Lagos. They said I was wanted somewhere and that they came to arrest me. They then took me away in their vehicle. Later, I found myself in that forest".
She said she could not tell if people were being killed in the forest by the kidnappers.
"I don't know whether people were being killed or women giving birth. Where they kept us was where I used to be. Once I covered my head with my cloth, I would just sleep off".
Another victim in the hospital, Mr. Wale Atoyebi from Ada in Osun state, also confirmed he was kidnapped.
All the victims denied the claims that they were mentally deranged and that they were being taken care of in the den by some Samaritans. One of the nurses said the survivors responded to treatment. According to her:"They have improved tremendously since they were brought here. When they arrived here, they were smelling awfully. Some of us had to bathe and wash them while some Samaritans donated clothes to them.
"You know their case is peculiar. If we should cut the hair now and anybody comes around to claim anyone of them, and they asked where the hair is, what do you want us to tell them?"
Confrontation with security agents
Some relatives of the victims and missing people wanted to have access into the bush to see whether they would be lucky to see those who had been missing for a long time but the security agents did not allow them. In the process, some sustained gunshot injuries. A woman, who sells grocery at Agodi Gate, Kafayat Afonja,was shot dead when some policemen were trying to keep people away from Sanyo police Station following an information that some hoodlums were coming to set it ablaze. Also, a suspect was burnt to death by angry mob who discovered he was feigning madness. When he was searched, he had four phones and a gun. This fuelled their suspicion that he could be one of the kidnappers.