By IFEYINWA OBI
ALTHOUGH criticised by disgruntled elements, importers through the  Nigerian Ports  have thrown their weight behind the  new import guidelines, procedures and documentation requirements recently introduced by the Nigerian Customs, to facilitate trade, generate more revenue to the coffers of government and enhance synergies with stakeholders.
Speaking to CustomsWatch,  the Chairman, Technical Committee on PAAR, ANALCA, John Oforbike, described PAAR as a  welcome development in the Nigerian clearing process,  adding that the new development has given Nigeria Customs  the sole responsibility of Destination Inspection.
He said that there  has  been  tremendous leap in the number of Pre-Arrival Assessment Reports, PAAR, generated.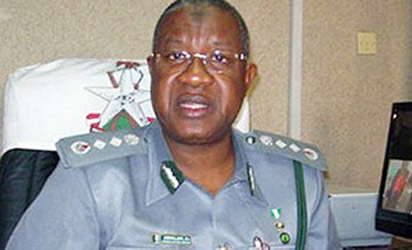 "As a proof,  statistics have shown that by the 13th week into PAAR  implementation 1276 PAARs were issued on a single day. This cannot be compared to 800 Risk Assessment Report, RAR, which was the highest number ever issued during the era of service providers.
"This shows that with the  Customs   now in charge of Destination Inspection, importing and exporting into the country and doing business  generally in Nigeria is sure getting easier" he explained.
For Donates Agupusi, also an importer and a freight forwarder, who expressed similar opinion with Oforbike, was of the view that NCS should be commended.
While acknowledging the fact that PAAR may have its  teething challenges, he urged  freight forwarders to exercise patience, and rightly declare  their cargo to reduce delay in cargo clearance at the port.
"So, sincerely speaking is it not a kudos to the CGC, is it not a kudos to the Nigerian Customs Service, is it not a kudos to the transformation by Mr. President?" he said.
Hitches in PAAR
While explaining the hitches in PAAR, Deputy Comptroller Yusuf Ibrahim, Area Project Manager, APM, Apapa Port,  said that there is no issue with PAAR as long as clearing processes are concerned.
"When an  importer  genuinely processes  his provisional documentation (form M and the proforma invoice),  before  the loading of  his  cargo,  he will quickly send  his  bill of lading
"Then with that,  you can  now submit  your declaration and your cargo will  start sailing. Even if it takes three weeks to come, your document has already arrived.
"So, people should understand what is known as Pre-Arrival Assessment Report, PAAR. This means assessing your documentation before the arrival of your cargo, not after."
He noted that  the  people shouting are the people whose cargo are already on the ground, adding that  it will now take them some time to open form M, and  thereafter send it to the banks, without a provisional and value documentation, all at the same  time.
"It is already known  that the transactions at the PAAR  have three places of scrutinisation. We have the expo seat, we have the verification seat and the scrutiny seat  before the final seat.
"So, it has to go through these seats. If you  do not  give us time  to finish one process before the other and you want all processes to be done at the same time, definitely  it will take this  process because the cargo is already on the ground.
"I must tell you that I have the documentation of people who genuinely present their documentation and they get their cargo cleared within 24 hours in this port.
Accusing the  agents  and the importers  of being dishonest, Ibrahim  who  raised the issue of utilized  PAAR said that importers who had earlier applied for PAAR have refused to come in order  to evade duty.
" Now, the issue I want to clarify is that  in February 2014, we  have 3, 843 utilized PAAR that is still on the system  that people refused to come and use.
"Most  people had earlier been  given  a provisional release and when their cargo comes in, and they find out that there is  difference between the value, they run away. They don't want to come and take it.
"Some of them, make applications, when this thing comes back and they found out that the value has been omitted, they refuse to come and make a declaration, looking for a way out for another provisional release. No way, gone are the days."
He added,  "We designed provisional release as a temporary measure for trade facilitation. Now, the temporary measure is over, people have to go and queue up to process their cargo in the most acceptable Customs designed clearance procedure.
"Secondly, some importers make an application and later find out that the value and the duty is high. Instead of paying, they now go to pay money to other people to come and mediate so that they can go back to provisional release."
Ibrahim advised importers to comply with PAAR as no amount of shouting will bring back provisional release ,"It is a mistake to think provisional release will ever come back. Provisional release is a temporary measures, wherever it is, it is still going back to the same thing. So, it's a huge mistake. It is better for you to process.
"The work now belongs to the professionals. If you were taking 'awoof' before it's no longer so. Because we go as far as knowing the Customs declaration abroad; knowing how much per unit you bought your goods abroad.
Whether you tell us or you don't, we are the owners of our work now, so why are you trying to hide? You can't hide now and nobody will help you out if you don't play your genuine role. Let me tell you that people who come here genuinely have easy and fast trade facilitation.
The Apapa area project manager, pointed out efforts of the Service to make PAAR a success story. " He said,"Let me tell you something, it has been  a miracle, I say this because from day one, we started this file from 250 per day, but it has grown up to 600 per day, when we created two shifts.
"The CG said no and created  three shifts, so that we're now working morning, evening and night, and we are making up to 800 today. To God be the glory, we are making up to 1250 per day.
"These are the people that applied for PAAR and these are the PAAR that we generated and transmitted out. And this is the reason why this PAAR is still  underutilized in the system.
"If a banker says, your PAAR did not come, go back to him and ask why, let them give you reasons , because we have put up a platform that once you apply, it will  sent through an SMS.
"And also  I want to tell members of the public that gone are the days when one  would just sit at home and tell an agent to go and open a form M for you, and the agent will  open the form M with his name and every other details. When you bring in the cargo eventually, the disparity between your first and second documentations will reject that PAAR completely. Because you are not the one that opened the first documentation, but the second is bearing your name. How come you got that. So this is how to understand these issues.
Digitalisation of the system
So, when people are saying they don't get their PAAR, I will challenge them to give me their form M number and I will find out there and then, what  is actually the problem. Frowning at the complaints of some importers , the Customs chief  said: "We digitalized the system by 3.0 ASYCUDA, people complained. When we came to e-payment people still thought it is not possible."
In his opinion the Public Relation officer Tincan Island custom command, Mr. Chis Osunkwo stated that for PAAR to work well there must be honesty.
He said, "Customs High Command has been preaching about honest declaration and presentation of quality documents, good documentation. You don't falsify documents right, left, center and present it. Let me warn , once you submit a falsified document you must  from that moment start having problems from the system.
When the documents are captured, definitely, there is no way they can pass the test. They are sent back to you, then you start afresh, and you will start counting all those days caused by you and not the Nigerian Customs Service"
He blamed the banks for most of the issues associated to PAAR, noting, "in all honesty, the banks are the number one suspect in fabricating these documents.
"How can a bank customer  get to the bank to find the state of his document and the bank will say, no, that they have to transmitt everything to the Customs. That is why I am of the opinion that the management of our Service should start deploying knowledgeable officers to the banks handling documents for PAAR.
No congestion at the ports
"They should start deploying them to banks, just like they deployed Customs officers for foreign military service because some of these banks lack effective and efficient staff to handle the process. I know what I pass through here, I am a public relations man."
On congestion, DC Ibrahim said that there was no congestion looming in the ports He noted.
"What I am trying to say here is that, we have no issue with PAAR as far as this command is concerned. Let us be practical.  The Terminal Manager of APMT just left my office  and  he confirmed to me that there is no congestion. It beats me where people get their rumours from,  if there is no congestion in the terminal, how is it possible that  non of the port operators raised it? he queried
Also Mr. Osunkwo said they  have no congestion in any of the terminals at Tincan Island port, "There is no congestion. You see the only problem associated with PAAR is still the same thing that the Customs management has been preaching about honest declaration"
When contacted, Public Relations Officer of  APMTerminals, Mr. Bolaji Akola  confirmed that  there is no congestion looming at the terminals as touted. "There is no congestion in the port. I do not foresee any  congestion looming in the port. At least to my knowledge," he added.