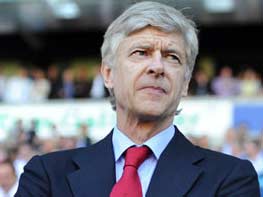 Arsene Wenger Photo: Arsenal.com
Arsenal manager Arsene Wenger on Friday urged star midfielder Mesut Ozil not to dwell on his costly squandered penalty against Bayern Munich in the Champions League.
The German playmaker had an opportunity to put Arsenal ahead in Wednesday's last 16 first-leg match with an early penalty, but his tame spot-kick was saved by international team-mate Manuel Neuer.
After Arsenal goalkeeper Wojciech Szczesny had been sent off, Bayern went on to prevail 2-0 through second-half goals from Toni Kroos and Thomas Mueller, leaving the reigning champions in a commanding position ahead of the second leg on March 11.
Ozil subsequently apologised for his performance on Facebook, but Wenger says that he expects the 25-year-old to put the matter behind him.
"Is he over it now? Certainly not, because 48 hours is a short time to get over that, but it is part of the job as well to deal with disappointment and to show that you can respond to it," Wenger told a press conference.
"He apologised after the game, but I don't think people are shocked by the fact that he missed a penalty, because Bayern missed a penalty as well."
Wenger also defended Ozil's penalty-taking technique, which sees him employ a short, deliberate run-up before striking the ball.
"He takes his penalties in an unusual way so people are maybe a little bit less understanding, but everybody can miss penalties," the Frenchman said.
Writing on his official Facebook page on Thursday, Ozil said: "The next morning doesn't feel better either. Sorry guys – it wasn't planned that way. Outnumbered it was really hard to win against this team."
Ozil, a club-record £42.5 million ($70.7 million, 51.6 million euros) signing from Real Madrid last year, was roundly criticised in the British media following a lacklustre display in the game.
Arsenal shareholder Alisher Usmanov suggested that his poor performance may have been down to fatigue.
Speaking to reporters as he left the Emirates Stadium on Wednesday, Usmanov said: "Ozil was not (playing) at his capacity, maybe because he is tired."
However, Ozil's team-mate and international colleague Per Mertesacker believes that the former Werder Bremen schemer is still finding his feet in north London.
"We have a lot of games here in England and everyone is tired, but it is not just up to Mesut," said the centre-back.
"Mesut has played a lot of games and he is a massive player. We need him at his best. Game by game, he will come back stronger."
Meanwhile, Wenger revealed that the club have reprimanded Szczesny after he made an obscene gesture following his first-half dismissal for a foul on Bayern's Arjen Robben.
Szczesny could face a formal disciplinary charge from UEFA over the incident and Wenger said that Arsenal have reminded the Poland international of his responsiblities.
"We will deal with that internally. We don't agree with that," he said.
"Yes, it was frustration, but we are professionals, me included, and we have always to master reactions. Wojciech is part of that as well."
Wenger also allayed fears about the frame of mind of striker Olivier Giroud, who sat out the game against Bayern after being the subject of allegations about his personal life in a British tabloid last weekend.
"We all have our weaknesses and strengths," Wenger said.
"Some of us when we have problems outside the field, use the pitch or the work to forget about our problems. Some of us are different, but he is one of them who will focus completely on the pitch."
Arsenal, currently second in the Premier League table, host Sunderland on Saturday and will be without left-back Kieran Gibbs due to a hamstring injury. (AFP)