BENJAMIN NJOKU &ANOZIE EGOLE
It was exactly one year, yesterday when the Nigerian music industry lost of its most talented female singer, Goldie Harvey to the cold hands of death.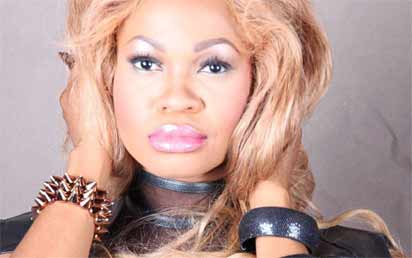 Goldie died shortly after she returned from the United States on Valentine's Day, February 14, 2013.
Goldie who was only 31 had complained of a severe headache shortly after returning to Nigeria from the US where she had attended the music industry's Grammy Awards. The songstress was rushed to a hospital in Lagos, where she was pronounced dead.
The news of her death was received with shock and disbelief as everyone, especially her fans wondered how she could have passed away within such little time. Speaking at the time of her death, Kenny Ogungbe, the CEO of her music label, Kennis Music, said she had "an abundance of talent" and it was a "gloomy moment" for Nigeria's music industry.
While details surrounding the cause of her death are still shroudded in mystery, after one year of her demise,  her fans yesterday took to her facebook page to pay tribute to her.
One of her fans, Jennifer Jluv wrote on her facebook page, "It's hard to forget you…actually impossible. You came, left your mark, made an impact.  Keep resting in the lord. Another fan, mary Oyibo also said, "We remember you today, one year gone. Continue to rest in peace Goldie.".
"You're forever remember you for your beautiful heart. I miss you," said Kalu Anya.  In his tribute, Goldie's close friend, Denrele described the late songstress  as his soul mate. "Everything about Goldie was unique. Everything about Goldie was complex.
She wasn't only beautiful, she was so captivatingly beautiful in and out that no eye could avoid her, and once she had hooked you with her charming innocence, you were blown away by a beauty that was at once shy and confident, sultry and innocent, inviting and biting and as such, I always described her as a Siren of Sorts!"
Meanwhile after her demise, many  unknown details about her life began to emerge.  First came Andrew Harvey, who claimed to be Goldie's legitimate husband.
In an  interview, Harvey revealed his relationship with the singer and further backed his claims by posting several pictures of both of them, including wedding pictures online. Questions began to pop up from various quarters, as several people wondered what the whole fuss over Kenyan rapper 'Prezzo', Goldie's  Big Brother housemate/rumoured boyfriend was if she was indeed married.
However, after the Big Brother show and the exposure she got from the continent, Goldie finalised plans to embark on an Africa-conquering quest, which would have firmly secured her reputation as an artiste on the African stage.
In fact, she was more than ready as she had already recorded a number of songs, including 'Miliki' with Ugandan artist, Navio, and 'Ika Maarun' featuring South African artist, Anatti and the hit track 'Skibobo' with feat Tanzanian act AY.
Sadly,, she was not around to personally promote the songs, which could have possibly cemented her place as a top female African artiste. Since her death, family, friends, colleagues and fans have not ceased to mourn her. Former label mates Essence, Jaywon and Jo-El and others recorded tribute songs for the late singer. Others, including Denrele Edun, Karen Igho and Uti Nwachukwu who have never stopped remembering her.