BY VICTORIA OJEME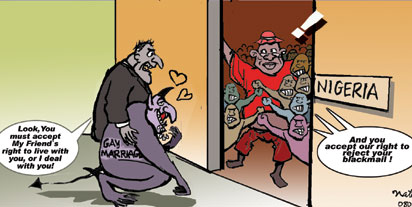 ABUJA — The British High Commissioner to Nigeria, Ambasador Andrew Pocock, has described the anti-gay law recently signed by President Goodluck Jonathan as draconian, saying that informed his government's opposition to it.
Speaking at the reception for Nigerian Chevening scholars in Abuja, Ambasador Pocock said the law was also likely to conflict with provisions of the Nigerian constitution that guaranteed the rights of the citizenry.
He  dismissed as incorrect the perception of western antagonism to the law, insisting that the law would not affect the cordial relations between Nigeria and United Kingdom.
He said:  "We think it is unnecessarily draconian, it seems to us to be at least potential in conflict in terms of its penalties with parts of the Nigerian constitution that defends individual rights and with parts of international instruments that Nigeria is a party to.
"We have expressed our disappointments as well as many other Nigeria's international friends. Because we look very much at our relationship with Nigeria as a partnership we feel we can speak plainly to each other without threatening the basis of the relationship, so we have done that in this case; we hope now to be able to move on.
"There is a myth going on around that western countries have been trying to force Nigeria to accept same sex marriage, we have never tried to do that, no western country is trying to force Nigeria to accept this,  that is a matter for Nigerian.
"Our disagreement with Nigerian government over this piece of legislation is in no way connected to our development programme.
"Our development programme is based on objective criteria on analysis of the needs of poor people in this country and wish also to bring input of many kinds into addressing some of the fundamental causes of poverty and of conflict in this country, those things remain extremely important to us and we think they are also very important to Nigeria.
"So we have no intention of linking our aid programmes driven by those fundamental requirements to a question like legislation. So as I said we can express our disappointment and find ways of addressing it but it is not linked to our development programme."