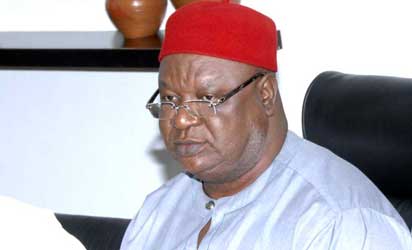 Anyim Pius Anyim
By Jide Ajani
*Secretary to the Federal Government, Chief Anyim Pius Anyim with the major stakeholders
It is not for nothing that God Almighty bestowed him with the massive frame he carries about.  In fact, it is that frame that helps him tolerate the physical demands of his office.  For Anyim Pius, Secretary to the Government of the Federation, SGF, he does not need to engage in the demanding task of early morning exercises of jogging or the treadmill.
His movement from the office at the Shehu Shagari Complex, near the National Assembly in the Three Arms' Zone area of the Federal Capital City, FCT, Abuja, which is a beehive of activities on its own, to Aso Rock Presidential Villa, the countless hours used to pour over files, correcting, adding, removing from texts, as well as his sorties between his own office and the SGF's conference room almost every day – including Sundays – are all more than enough to make him lose weight.
Even his involvement in the activities to mark Nigeria's centenary is enough to make any individual lose weight. And so he carries on.
In another 48 hours, Anyim would turn 53 years.
His life is one of Nigeria's classic cases of grass to grace.
Not that poverty was in a bear-hug with his family, growing up could as well be described as being under modest circumstances.
His meteoric rise, just after his civil service years at the Refugees' Commission, to becoming a senator of the Federal Republic of Nigeria and, in just a little less than three years, its presiding officer, is the stuff of near-magical ascendancy.
But this son of Ishiagu village in Ivo Local Government Area, LGA, of Ebonyi State, did not over-reach himself.  After the spat he had with the then President Matthew Okikiolakan Aremu Olusegun Obasanjo, a spat which was just a sub-plot in the wider crisis which rocked the latter's presidency as a result of his seeking re-election, Anyim decided to stay away and out of the limelight.
He was not to resurface in the polity again until 2008 in the race for the chairmanship of the Peoples Democratic Party, PDP.  And whereas he bowed to party supremacy and stayed back in the party, others moved to other parties.
And because only the deep can call unto the deep, Anyim Pius, working with other very eminent and distinguished Nigerians, rose when the occasion demanded that the country be saved from the shenanigans of a view individuals who were attempting to convert Nigeria's presidential villa into a private estate.
It was at a time when Turai Yar'Adua and a few aides of the then President Umaru Musa Yar'Adua were toying with the sensitivity and sensibilities of Nigerians; a time when the presidency could not enjoy the benefit of deputizing substitute.
While Yar'Adua remained frail on a Saudi Arabian hospital bed, his deputy, one Goodluck Ebele Jonathan, was denied access to him just as he was practically barred from acting as or taking over presidential duties.  It was the group to which Anyim belonged, a group of eminent Nigerians comprising former leaders of Nigeria's legislative arms who rose against the perfidy, seeking the transfer of power to Jonathan. They were forceful.
And whereas one of the very first appointments made by President Jonathan immediately after being sworn-in, on May 29, 2011, was the appointment of the SGF, Anyim's choice was hailed as a good choice and also suggestive of a serious presidency.
He has since been conducting himself and the affairs of his office with manifest best practices.  But he is not perfect. One of the criticisms against him is the insinuation that since the SGF's office was zoned to the S/East geo-political zone, there has been a preponderance of opportunities for his kinsmen.  But that may just be tin air; the typical Nigerian finger-pointing.
On a few occasions when the need for the suggestion of names to fill some positions were necessary, Anyim had turned down some of his kinsmen, requesting, instead, for people of substance and quality. Pray, if there is a kinsman whose qualification and qualities for a job tower above others be denied an appointment on account of affinity?
Meanwhile, the activities for the centenary celebrations which he oversees, has turned him into a story teller of sorts.  He met with stakeholders across the socio-economic and political spectrum between December 2012 and January 2013, discussing, sensitising and explaining the broad objectives of the centenary celebrations.
In private and in public, Anyim insists that "the centenary celebrations are about you and I; about generations yet unborn, about our country Nigeria. It is not about any individual or any government. It is about this nation and what we can use this 100-year-celebrations to re-ignite".
During the launch of the logo and torch, penultimate Monday, inside Aso Rock Presidential Villa, Anyim said the celebration is not only desirable but also imperative because of the landmark the country has recorded in the last 100 years since its amalgamation. According to the SGF, the celebrations should offer Nigerians and Nigeria an opportunity to rejuvenate and have faith in their country and its potentials. He said the ceremony would be used to replace pessimism with optimism to make the country rise above its challenges.
Anyim's message was echoed by other dignitaries present at the ceremony. According to former Head of State Yakubu Gowon, who had the unique opportunity of presiding over the country during its most trying moments, "Nigeria is a unique nation, a nation of diverse, strong and hard working people" that has remained united despite the challenges that it had faced in the past and was still facing.
Anyim's abiding faith, which is total dependence on God, is expected to see him through in the coming months even as some criticise government's rationale for the celebrations.
He is a family man to the core.
Anyim, GCON, is a devout Christian. His marriage to Chioma Blessing, also a lawyer, is blessed with a daughter and two sons. Anyim's leisure interests are farming, meeting people, swimming, reading and community service.
On a jocular note, for a man who loves farming and likes going to the village so as to remain close to his people, just visualise an Anyim, cutlass in hand, a hoe on the shoulder, wearing a pair of shots and a singlet strolling along the bush path in his village! What you have is a village farmer. But all of education, urban life and exposure, which once made Anyim Nigeria's Number 3 citizen, continue to be relevant as he works hand-in-hand with President Goodluck Jonathan and those in the leadership of the country.