By BENJAMIN NJOKU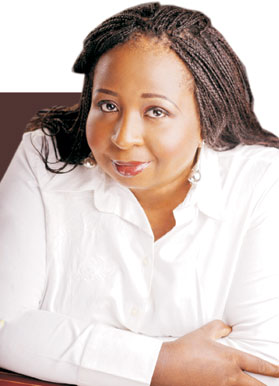 Ten years ago, a dream was hatched by a woman who believes in celebrating and recognising the individual talents that abound in the continent of Africa.
Then, while many were busy chasing other mundane things that would enrich their pockets, she was busy preparing a future and strategising on how to launch African film makers into the global stage.
Despite the fact that the western countries refused to acknowledge that anything good could come out of the continent, she  practically sacrificed her comfort in order to bring African film makers to the limelight when she established a reward body that recognises and celebrates the enormous talents in Africa.
Today, having pursued that dream vigorously and sustained it after 10 years, Peace Anyiam-Osigwe can look back with pride and beat her chest that establishing the African Movie Academy Award, AMAA, remains the best thing that ever happened to the continent.
Indeed, her decision to dump the legal profession in order to give African film makers  a voice in the world of film making was not a wasted effort after all.
Peace recounts that, while pursuing the AMAA dream, she was tempted severally to abandon the dream  following the unavoidable frustration and other unforeseen circumstances that characterised the organisation of the event.
Specifically, she regretted that in the past 10 years, Africans have not been able to separate her from AMAA as an entity. "There  were times, I decided that enough is enough.
I got tired and wanted to hands off. When you keep on pursuing a dream and people almost personalise it, it becomes frustrating. In the past 10 years, I have wanted people to separate Peace Anyiam-Osigwe  from AMAA. Peace is a different person while AMAA is an entity.
I have a lifestyle that is totally different from AMAA. It is also frustration when you would be expecting your sponsors to release the needed funds to execute the project,"she recounted. Peace's passion  for promoting humanity didn't start overnight.
It has been with her since she was a child. Being one of those children who had a fore-knowledge of what she wanted in life, getting a degree in Law was just to satisfy her parents who insisted that must have a structured education.
That is why no sooner she bagged her Law degree than she dropped the certificate on the laps of her mother and left in pursuit of her lifetime dream in film-making.
Recounting her story, Peace said, "I never wanted to study Law. I'm a creative person but my mum wanted me to have a structured education.
My dad suggested that I should go and study Law and I did.  Anybody who knew the kind of relationship that existed between my father and I, would know that once he gave an instruction, I must obey him. But my father knew that immediately I was done with my education, I was going to go back to what I wanted to do in life-creativity.
My mum is still with my law certificate and she can keep it because she knows I'm not going to use it."
Peace said, apart from pursuing the AMAA dream, she's also into so many things. "I write a lot, and I work for my late dad's  foundation. I also work with my brothers in the businesses that they do. On the other hand, I trade.
I love fabrics and I sell fabrics. It's my passion and selling fabrics is one thing I have done while I was a young girl till now. I used to run a shop in London where I sold fabrics. I make cushion covers and stuff like that. I'm a very creative person.
So, I do a lot of things with my hands; from Aromatherapy to reflexology, massage. I have different escentric things that I do. But I  enjoy readings, watching  films and listening to a lot of music. So, when I'm writing, I intend to listen to music. When I'm selling my fabrics, I'm having fun as well."
Peace was like a tom boy in her family. Loved by her late father, her seven brothers misunderstood her when they think she is 'totally mad', because she is a creative person.
Her late father knew that his daughter was not a normal person. Just as her ageing mother would want her to always be around and take good care of her as the only daughter. But unfortunately, Peace is always on board, travelling from one African country to another , promoting  what we have come to know as our own.
Her father made no difference between male child and the female. He actually brought her up very tough but never took away from her that she is a girl.
However, he did not keep anything concerning the family's business, the houses, cars, etc away from her. She enjoyed equality with her brothers.
However, taking stock of the AMAA journey in the past 10 years, Peace owed the success the academy has recorded so far to her family, saying that without the support she enjoyed from her immediate family, she wouldn't have been able to go far with the project. She lamented lack of governments and corporate sponsorship of the project that unites African film makers.
"Some years, we've not even been paid by certain people. We don't come out to complain, this hasn't been done or that hasn't been done by the state, but if I didn't have the family behind me, I probably wouldn't do that for the past 10 years."
Apart from her family, Peace specifically mentions certain persons who were instrumental to the realisation of the AMAA dream.
The likes of former Governor DSP Alamieyesiegha of Bayelsa State; Oronto Douglas, who was Commissioner for Information in Bayelsa State during the maiden edition of  AMAA but now Senior Special Assistant to President Jonathan; American actor Danny Glover who puts in a good word to let put people outside Nigeria know that the Nigerian security issue is not as bad as it is made to look in the international media; Tony Elumelu, former MD of UBA, and Oba Otudeko of Airtel who supported AMAA and made it an African brand.
Noting that the budget for the maiden edition of AMAA was not up to $5000, Peace said, "We spend over $5000 on tickets every year. Today, AMAA is a huge budget, it runs into millions of Dollars because we have the nomination and we have the awards night itself."
She cited 2013, as a very difficult year for AMAA. "2013 was a very difficult year for us logistically. But interestingly, it was one of the years that we planned very well;there were a lot of issues, people claimed they were strangled and I begin to wonder how one could come into Nigeria with one way ticket. It's  not possible.
How can we abandon our guests. I don't mind complains because I grew up as a writer. I accept criticisms, it only makes me better and stronger, that's a reality."
When asked to describe AMAA in the past nine years, Peace compared it to one of the books detailing Nelson Mandela's life-'Long Walk to Freedom'. AMAA , she said, is still a walk in progress, as she has not arrived her destination.
"It is long walk for people to recognise and appreciate the talents that are in Africa.Looking back today, AMAA has set a new record as a uniting force among African film makers.
Every year, film makers from across the continent look forward to attending AMAA. And the history of Nollywood cannot be complete today without the pioneering role AMAA has played in the internationalising the industry.
Subscribe for latest Videos