It is no longer news that you don't have to practise what you studied. Just as we have seen a good number of people with medical or scientific background working today in the banking industry or in industries not related to their field of study.
Cathy Williams studied Linguistics but has a strong desire to build a career in the movie industry. Catherine,25, is a fast rising star in the Nollywood industry. She met with Vanguard Youthful Vibes to tell her little story.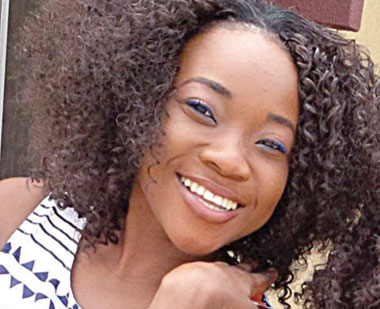 Please tell us about your background.
I was born 25 years ago. Today, I am a graduate of Linguisitics from the University of Calabar and I possess a professional certificate from the Nigerian Institute of Management.
I was posted to Ekiti State where I did my Youth Service with the Ekiti State House of Assembly. Ikono in Akwa-Ibom State is my native land.We are five of us in my family, my parents,  I have a brother and a sister while I am the first daughter and the second of them. One significant thing, I will always remember was the first time I was on a camera.
What has been the inspiration in an acting career when you studied linguistics?  Is it because the industry is lucrative?
No! Acting is just my passion and I am doing it because I have the love for Acting and I believe I can be the change in Nollywood.
What is your perception about the movie industry in view of some of the challenges up coming artistes face particularly from the male folks?
Well, my own opinion is you have to be good in all you do. Have faith in yourself ,wait for your time and don't compromise regardless of who is involved believing that when it is my time nothing can stop me by the Grace of God.
What would be your passion other than acting?
Nothing but acting.
What do you think about Nollywood?
Nollywood is the second largest film industry and I believe we can still do better.
What movies have
you featured in?
Sexy ladies cult,Crazy girls,beauties of the night,Sound of Tears,Crazy Sex,Uniben Babes,Joy of Tears,The Flatmate,Twinkling Luck(Soap-opera),Naija Laff(Short film) to mention but a few.
Who are your mentors in the industry?
Joke Silva,Queen Nwokoye, Rita Dominic and Nse Ekpe Etim.
Is your current role affecting young people positively?
Yes, because it gives you confidence about yourself and some other young people want to emulate you and see that it is good to think positive of oneself.
What are the imminent challenges you encountered building this career?
The industry is large, as there are a lot of upcoming actors and actresses. You can rule out the discouragement from friends; many people see Acting as a hobby and not a profession. There is also the notion about: "if you wanna become a Star, grace my bed," but you just have to be strong and focused.
What would be your advice to other young people who want to follow your path?
Believe in yourself. Be focused, be consistent in all you do and trust me… the Sky will be your starting point and finally above all Pray, prayer works.