BY OLAYINKA AJAYI   
What is your view on the flamboyant lifestyle of Nigeria's public office holders amid worsing economic condition?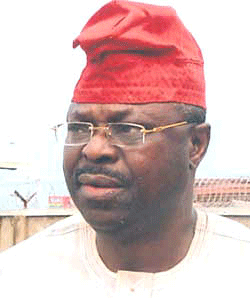 It is very disappointing and it insults the intelligence of any average person despite the claims by notable top government leaders that Nigeria is in a deep financial crises . For public office holders  to find ways through which contracts are awarded in order to enrich themselves with our commonwealth.
I am always very disturbed when I read issues like these. It's very unfortunate that it is happening to Stella Odua, somebody that I respected and have had so many years of association with as a friend and as a family acquaintance. It's a shame that a person like her from a very firm background could be involved in such.
There are some people that are from affluent background but such act is far from them. I know most politicians are from humble background, they are people that would not have gotten to where they are if not for providence.
Don't you think it is getting out of hands?
 It has gotten to a point where something drastic needs to be done to rescue the situation by the law enforcement agents which will serve as a deterrent for others because it could lead to a giant fall of our economy.
The opposition parties that are supposed to initiate probe to curtail the dastardly act  are selective  in criticising and they also have their own share of corrupt leaders, for instance the issue of the speaker of Lagos state House of Assembly that is involve in a financial scandal with the Economic and Financial Crime Commission EFCC,  still goes around his duty freely as a speaker , which ideally should step aside  as the speaker pending the time the case with the EFCC is cleared but Nigerians kept mute about it because he is not in PDP.
And because the Aviation Minister is a person that supports  President   Jonathan's Administration, she has to be pilloried.
I am not in any way in support of what she did but what I am saying in essence is that corruption has eaten deep into every part of the Nation.  I see a situation where all hands should be on desk to condemn corrupt leaders holistically.
With all these endemic corrupt practices  in government circle, don't you think it is an invitation to violence?
I don't believe in any violent revolution in Nigeria, people are too complacent to want to carry any revolutionary placards at this time.
For instance look at what happened in the politics of the South-west, where  people complained bitterly  about toughness of Fashola's Administration, banning commercial motorbikes and chasing market women out to modernise the markets and Shopping Plazas in Lagos State.
But nobody is saying anything about it. These market women that were chased out are the ones after being bribed with  N500, that are going to line-up to vote these people into office again.
How best can these maladies be curtailed?
The best way we can curtail the flamboyant  lifestyle of public office holders  is by the enforcement of the Law.
There are so many laws that can curtail the excesses of the flamboyant lifestyle of these public servants but the laws are not enforced because the Judiciary has compromised and  the law enforcement agencies have also compromised.
Our judiciary system has to be revamped but then again, a revolution does not need to be violent before it can be called a revolution.
The revolution that I foresee will work in Nigeria is, if the electorate refused to compromise with bribery as low as a bottle of coke and N500 when it is time for them to vote, then we'll begin to see results.
 Nigerians at this stage should be considering individuals they believe have the interest of this country at heart, a person whose children are not schooling abroad, a person who does not travel abroad to cure headache, a person that does not have fleets of cars. But rather Nigerians should vote for persons who want to invest in this country.
The electorate are in a better position to decide who should rule them and not cheap, selfish politicians, that when they get hold of power, dip their hands into our common-wealth to enrich themselves and recoup the money spent during elections.