By Ishola balogun, Sam Anokam, Florence Amagiya and Iyabo Aina
Over the years, the population boom in Lagos, the commercial nerve centre of the country has put undue pressure on government and individuals as the demand for housing  continued to rise far and above what the urbanised areas can offer. This could  be one of the reasons for the high number of  slums within the precincts of the city of Lagos.
A few years back, it was rumoured that the state advised many residents who were finding it difficult to live in the state to go back to their home states and was even ready to assist them with a paltry sum to aid their return to their home states. As more and more people find their ways into the state; the urban slums become settlements for those who are determined to remain in the state and eke out a living.
In the remote areas of Ikotun, Ejigbo, Majidun-Ikorodu, Ogba, Kio-Kio village, Pako and the popular Ajegunle, there are residential areas where dwellings are unfit for human habitaion. A visit to the hinterlands in many of the above areas would reveal the inhabitable, cramped, poorly ventilated and unclean environment where many live, where families bear and raise children and socialise. Saturday Vanguard visited these areas and files in these reports.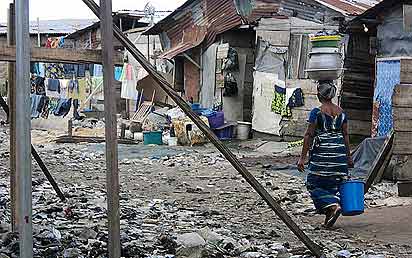 Majidun, Ikorodu
Majidun, Ikorodu area of Lagos area is populated mostly by the Ilajes who dwell in houses that were not only poorly built but over-crowded.
Some of the residents who spoke to Saturday Vanguard maintained that the seemly crowd at the time of the visit was as a result of the demolition along the Ikorodu road to pave the way for on-going road construction in the area.
"People lately found accomodation here because of the demolition that affected them as a result of the on-going construction of roads." That reason may not also be tenable for the poor housing structure in most parts of the area. Houses were carelessly built with light woods and and zincs, yet they are homes for many families.
Potable water was another luxury in the area. Because they are surrounded by a river, residents depend mainly on it as their major source of water which are used for their culinary chores, washing and bathing. Ajuwon Raphael who spoke with us disclosed that "we pay heavily for 'water-tankers' weekly to deliver water which we drink." Since they resort to the river for their water need, they may be exposed to risk of waterborne diseases, especially the children.
Since it is regarded as a community on its own, no health unit is close to the environment. In fact, many of them resort to herbal homes for their health and maternity challenges.
Poor housing units such as these, inaccessibility to one or more of better living conditions result in a 'slum lifestyle' and these make the inhabitants vulnerable to disaster and destruction because the poor building materials cannot withstand stormy winds or heavy rainfall. These people as a result become nothing but endangered species with greater risk of disaster as a result of their vulnerability to the environment in which they live.
The idea of slums can only become history not only when we attain the tall dream of the 'Mega city' but when the government particularly pay attention to the living conditions of its people, providing the necessary amenities and of course when the rich who have to segregate themselves behind small gated enclaves dump the class system.
Oke Afa, Isolo
Despite the development in Lagos metropolitan by the Babatunde Fashola led administration, some areas are still begging for development. One of such areas is the slum at Oke Afa, Isolo. Whether one is coming from the Iyana Isolo axis or Cele side going towards or coming from Ejigbo or Ikotun, what confronts one at the Pako bus stop intersection is the huge refuse dump where all sorts of makeshift shanty houses are erected on the heap of the refuse.
Close to the cemetery of thousands who lost their lives at the Ikeja cantonment bomb blast some years ago and divided by a stinking carnal, the fenced refuse dump site boasts of various activities like petty trading which include sale of cows, foodstuffs, soft drinks, sachet water, local gin known to consumers as paraga, among others.
A whole lot of cart pushers were busy coming in and going out with various items.
Close to the entrance is an old man who directs where they push their carts to. Those with refuse are not allowed in or other stuffs that are not required inside the huge refuse dump site. They go and off load their wares and probably get paid and move on to scout for more materials.
When asked why the cart pushers who are supposed to dump their refuse at the expansive site are not allowed to do so, the visibly angry old man who was provoked by her teenage daughter who left her wares to buy rice answered: "They no longer use this place for that again. Anyone who is caught will be dragged to the palace of the Oba and will be heavily fined."
Sensing that he was being sized  up, the reporter stylishly paid for a bottle of drink he bought from the old man's daughter and sauntered into the site for more investigation.
All around the premises are filth of varying magnitude littered everywhere with accompanying offensive odour emanating from in and around the big compound.
There are kiosks almost at every corner. There is hardly any usable item that cannot be found there. From disused children's swing, large plastic water containers, rags, irons, refrigerators, TV sets, mattresses,  rags, furniture, bottles, cans, planks, car steering, among others.
There were some men at different parts of the site having their baths in the open as there were no public or private bathrooms and toilets including drainage system of any sort. One iron bender was busy bending, cutting and straightening iron rods while his client sat on an old refrigerator. Few people were also waiting for their wares like disused and old roofing zincs to be scaled and get paid peanut like N30, per dozen. Some others were seen half naked sleeping, lazying about  and smoking weeds, cigarettes as well as drinking local gin.
Upon investigation, it was gathered that the shanties are actually residents for the cart pushers as well as dealers in all kinds of other related businesses. Most of them are Hausas and according to one of them (name withheld) the cost of rent is N1,000 per month payable to the Oba.
He says: " As you can see all around here, people are living here. That is my apartment there. We are not staying here for free. We pay N1,000 to the Oba every month. The Oba owns this land. We don't have light, no water, nothing. We stay here and do our business."
They also have a kind of segregation at the slum. While few people close to the entrance are enjoying electric power supply, those inside have no form of electricity but they look satisfied in their small makeshift rooms.
Unity, in Ogba
Ogba which is about five kilometres West of Ikeja, is a densely populated area with a mix of both high and low-income earners. Despite its assuming popularity of the area,  it habours what could pass as a slum. A visit to Unity Street in Ifako Ijaye axis, the area that shares proximity with Aguda bus stop would reveal people living within Lagos city but are cut off from the wind of development in the major parts of the state.
Saturday Vanguard gathered from one of the Community Development Association leaders in the area who does not want his name in print that the people provide virtually everything for themselves including roads that are not motorable. "We had constructed some roads on our own which link various streets together after several complaints to the government which did not yield any result".
Another resident, Evang. Timothy Odedeji, Chairman CDA in the area, said: "The government has not been fair to us, we are always endangered anytime there is rainfall. We have cried to the government to at least help us to dig a canal but to no avail. There was a time they started around Abiola side to Modupe but they stopped eventually and nothing has happened since then."
He lamented incessant building collapse with attendant loss of lives and properties in the area.
Residents speak
M.O Lambe, a resident said: "When people from other places ask us where we stay, we tell them that we live in Lagos. Me and my family have been living in this zinc house for the past 15 years now. It's not that we wish to live in this kind of house but because of the situation we find ourselves. I used to live in a very good and comfortable house but it collapsed. I have no choice than to move in here and my rent here is 1000 naira per month . So my own comment is that the government should come to our rescue."
Ireoluwa Komolafe said: "Residents are not safe here at all. Our major problem here is digging of canal because the one they did here is very small and it makes everywhere to be flooded during rainy season and it makes the buildings to be weak."
Tolani Ajisegiri, a landlord said: "The truth is that we are within Lagos but we are not really living in Lagos. This is because our own Lagos is different from their Lagos. Because living in this kind of environment is like living 30 years behind modernisation. Government should help us."
Kio-Kio Villiage
The Izons from the Niger-delta area of the country have been known for their cultural preference in living in riverine areas largely because of their main occupation of fishing. Civilisation notwithstanding, the Izons have continued to live this way from time immemorial and nothing suggests that in the near future, the situation would completely change. Hence, they are most friendly with water.
But many have wondered how they have been able to survive in their environment which reeks of filth, pollution and general abandonment by the government. Without mincing words, they hibernate in slums. And they are scattered in the South south and southwest. In Lagos, be it in Oko-oba or wherever else they choose to stay, the deplorable situation of their environment calls for concern.
Taking a look at Kiokio village along Ikorodu road, the Izon community from every indication is far behind in the development by the Lagos state government.
Whether you are coming from Ikorodu- Agric area or Owode- Ajegunle axis; the entrance of this village wouldn't tell you much of the state, but entering the village, one would think he or she is back to the Stone Age.
The shanty houses without provisions for toilet systems or bathing system would greet your arrival; the river on the end of the village serves that purpose. Known for their expertise in midwifery and treatment of bones, most of these shanty houses boast of such activities aside manufacturing of local gin and pure water.
When asked why the river is used for this purpose instead of building a toilet system in their various homes, we learnt it was cheaper to build one makeshift latrine and bathroom for the entire village than to build individual ones in individual homes. A middle aged man who pleaded anonymity told us that it is very expensive to build a toilet system with pipes leading to the river. He also revealed that the ground is water -logged and digging it for the purpose of a toilet system has never been thought about. He also hinted that it was not cultural for them to have individual toilet system.
It was also discovered that the river surge has repeatedly displaced them and putting all their eggs in one basket in Kiokio village is futile. The river surge has cost the indigenes of Kiokio village fortunes in the past; no wonder, they are not in a hurry to build modern buildings.
Since, these people live in Lagos and pay their taxes, one would think it is incumbent on the state government to extend dividends of democracy to their region as well as prevent outbreak of diseases especially the recent outbreak of cholera which has to do with water.