By Jide Ajani
"You can go further with a kind word and a gun than just with a kind word" – Al Capone (notorious Mafiosi during America's prohibition era)
YOU CAN NEGOTIATE ANYTHING is the title of Herb Cohen's best-selling book on the skills of negotiation.   The book presents hard facts and suggestions on how politicians or business persons can survive and describes how usefully they can avoid the dirty intrigues of day-to-day life.   Cohen quotes John Paul Getty, who said the "The meek shall inherit the earth – but not its mineral rights".
These quotes are recommended for Nigeria's President Goodluck Ebele Jonathan, who is presently fighting the battle of his life.   He wants to seek re-election. But he is overseeing a political party, the Peoples Democratic Party, PDP, which is showing signs of self-induced stress.   Yet that is the platform he hopes to run on. Today, so many things are wrong, definitely wrong with the party.   An ordinary agitation by the Adamawa State governor, Murtala Nyako, against Bamanga Tukur, the party's National Chairman, was allowed to spread like cancer.   From just a governor, six others joined.
How President Jonathan allowed five state governors who are very relevant in their states and in the polity at large to decamp to the opposition All Progressive Congress, APC, is known only to him.   He has also overseen the loss of majority of his party in the House of Representatives.   Something similar may  happen in the Senate when it resumes this week.   What all these translate to is that there is flight of negotiation skills.   Jonathan needs Cohen.
The President has allowed the perception that he is a weakling to stick.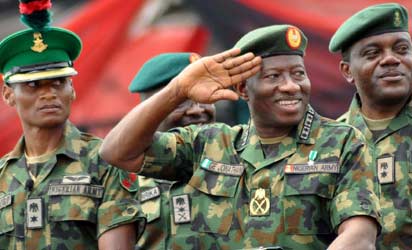 Whereas that may be an uncharitable and an extreme description of a simple man by nature, some hard, brutal realities of politicking in Nigeria need to be interrogated on behalf of President Jonathan.
Let us start with the admonition of Getty, removing the biblical factor.   Meekness, in reality, is not for this clime.   The challenges of inheriting the mineral rights along with the earth require that an individual device a strategy that is at once workable, focused and realizable.
Without prejudice to the letters and spirit of his name GOODLUCK, what a meek individual who dabbles into politics inherits is the type of problems the President is faced with today.
Even one of the state governors from the South-south whose high octane volubility is partly responsible for how low the president's rating has sunken is playing Janus with him.   Worse still, Olusegun Obasanjo, who feasted on the meekness of Jonathan regarding the attempted imposition of a five-member PDP South-west caucus on the 360-member House of Representatives, caused Jonathan to suffer his first defeat as an elected President with the mortal blow zoning suffered – the emergence of Speaker Aminu Tambuwal, against the protégé that was to be imposed from the South-west –  demonstrating to those perceptive enough to know that President Jonathan could be trampled. The same Obasanjo wrote an open, caustic letter to Jonathan late last year.
Now to the suggestion by Alfonse Capone, a man of immeasurable capacity for evil in his days as a refined gangster, that you can go further with a kind word and a gun than just with a kind word, it is here suggested that Jonathan needs a gun and a big one at that.
He has relied on politicians, kith and kin, friends and associates who keep escalating his sphere of discount per perception, so much so that he now needs more than just the kind words he offers.
He is lucky that those who would have made life utterly miserable for him have left the PDP; so, he can grab the presidential ticket.
Now, to the gun! The biggest gun any reasonable politician needs in order to remain relevant in the eyes of the people is service delivery.   At this juncture, if President Jonathan allows the politicians to keep deceiving him with strategies that are effervescent at best and deceptive in general, he may find himself holding the short end of the stick.   Running up and down to save just 30minutes, while over 23hours are wasting away in a 24-hour day is tantamount to being penny wise pound foolish – saving a kobo to lose a naira.
President Jonathan should deliver hugely on his campaign promises – that is the gun he needs.   He still has time. If and when he delivers on power, security, education, good healthcare and roads, he would have scared his opponents away with a big gun.  Pray, what would the APC campaign on when there is considerably improved power supply, state of security is guaranteed and the education sector a well as roads are well catered for?  Being ensconced all day in politics while pretense to governance is offered would not do him any good in the long run.   At the local government level, a chairman involved in the distractive politicking of the PDP as has gone on since August 2013,as the president has, would not have time to govern and deliver.
For how long would all these go on before President Jonathan realizes that millions of Nigerians are the ones who would vote and not the few fat cats hanging around him? Once he backs his kind words with democracy dividends, he would go further.   That is what he can do to save himself from the buccaneers he has inadvertently bred in the corridors of power.   That is what he must do.   Time is of essence.