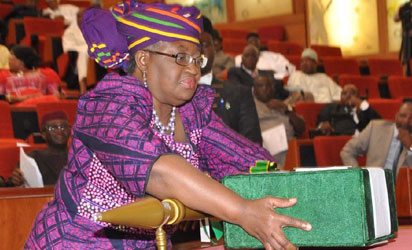 The Coordinating Minister for the Economy, Dr Ngozi Okonjo-Iweala has
responded to the 50 questions posed by the House of Representatives Committee on Finance during the 2014 budget presentation.
In a 102-page document obtained by Vanguard, the Minister said, in spite of the many challenges facing the government, the Nigerian economy has shown real and measurable progress in many areas, including increase in job creation, improvement in roads, rail and other infrastructure.
She added that the country is also saving for the future and planning better for the present.
On job creation, the minister said a total of 1.6 million jobs were created in 2013, according to the National Bureau of Statistics (NBS), of which 250,000 were seasonal jobs created in dry season farming in 10 northern states.
The document reads:
" In manufacturing, the Onne Oil and Gas Free zone created an estimated 30,000 direct and indirect jobs. The government special intervention programme YouWin supported young entrepreneurs, creating over 18,000 jobs. The SURE-P Community Services prgramme has also created 120,000 job opportunities.
"The improvement in federal highways has been confirmed by many Nigerians
who travelled over the Christmas and New Year holidays. Key highways which have witnessed significant progress include Kano-Maiduguri road, the Abuja-Lokoja road, the Apapa-Oshodi road, the Onitsha-Enugu-Port-Harcourt road and the Benin-Ore-Shagamu road. Preliminary work has commenced on Lagos-Ibadan road and the Second Niger Bridge.
"The Railway Modernization Programme involving the construction of standard gauge lines is underway. The 1,124 km Western line linking Lagos and Kano is now functional while work on the Eastern line linking Port Harcourt to Maiduguri is about 36% complete. The Abuja-Kaduna Standard Gauge line has attained 68% completion, and the Itakpe-Ajaokuta-Warri Line which is presently 77% completed, will be completed next year. The annual passenger traffic on our railways has increased steadily: rising from 1 million in 2011 to 5 million in 2013."
Power
" We have completed one of the most comprehensive and ambitious power sector privatization and liberation programmes globally. We have privatized 4 power generation companies and 10 power distribution companies, and have virtually settled all claims and entitlements of PHCN workers. Some major cities get an average of 16-18 hours of electricity per day in 2013. This however dropped in November and December during the transition we expect some teething problems and then power supply should pick up. In 2013, we also mobilized $1.5 billion in financing from multilateral sources for investment and upgrade of the transmission network in 2014 and beyond. To promote clean energy, we also commenced construction of the 700MW Zungeru Hydro-Power project in 2013. We have strengthened relevant power market intermediaries such as the Nigerian Bulk Electricity Trading Plc (NBET), and backed them with financing to stimulate greater private investments in the sector."
Manufacturing
"We launched the National Industrial Revolution Plan (NIRP), which focuses on industrializing Nigeria and diversifying our economy into sectors such as agro-processing, light manufacturing, and petrochemicals. In the 2013 fiscal year, Nigeria was named the #1 destination for investments in Africa by UNCTAD (the UN Conference on Trade and Development), attracting over $7 billion in FDI.  There were a large number of both foreign and domestic investments in the economy, such as by: $250m investments by Procter and Gamble in Ogun State; $40 million in agricultural projects by Dominion Farms. To further support the manufacturing sector, the Government successfully negotiated a strong Common External Tariff (CET) agreement with our ECOWAS partners, which would enable us to protect our strategic industries where necessary. The Nigerian Enterprise Development Programme (NEDEP) was initiated in 2013 to address the needs of small businesses.
Some key interventions by NEDEP include supporting small companies with
access to affordable finance, access to markets, capacity support, business development services, youth training, and support in formalizing their operations. In addition, in 2013, we reduced business registration costs for small businesses by 50%, to help them conserve capital. Finally, as a result of our backward integration policies, Nigeria is now a net exporter of cement and expanded cement output capacity from 2 million metric tonnes in 2002 to 28.5 million metric tonnes in 2013."
#Read the 102-page document below