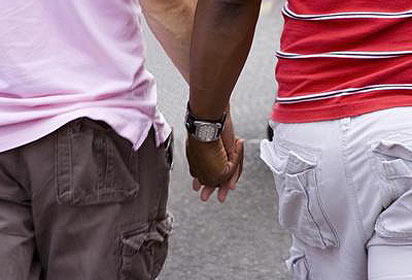 Gay
By CHIOMA OBINNA
Just last week President Goodluck Jonathan signed into law a Bill criminalsing same-sex relationship in Nigeria. Since the signing of the law, which contains penalties of up to 14 years in prison, there have been so many criticisms both in Nigeria and outside the country.
However, looking at the health aspect of the activities of gay and bisexual men, the question is does homosexual activity harms anyone?  Experts say assuming that homosexual behaviour harms no one is untrue as the lifestyle of homosexuality is highly promiscuous and brimming with disease.
For all men, the leading causes of death are heart disease and cancer. However, among men who have sex with men (MSM), there are higher rates of HIV and other sexually transmitted diseases (STDs), tobacco and drug use, and depression compared to other men.
Studies have shown that the state of physical, emotional, mental, and social well being in relation to sexuality—is an important part of an individuals overall health. The idea of sexual health emphasises health and wellness as well as the avoidance of negative health outcomes that result from unhealthy sexual behaviours and attitudes.
For gay and bisexual men, HIV, hepatitis, and other STDs are of particular concern. For example, the rate of new HIV diagnoses among MSM is more than 44 times that of other men, while the rate of primary and secondary syphilis among MSM is more than 46 times that of other men.
According to experts, homosexuals are more likely to suffer from depression. A study in the United Kingdom has revealed that homosexuals are about 50 percent more likely to suffer from depression and engage in substance abuse than the rest of the population.  There are also reports that the risk of suicide jumped over 200 percent if an individual had engaged in a homosexual lifestyle.
The lifespan of a homosexual is on average 24 years shorter than that of a heterosexual. While the Health 24 article suggested that homosexuals may be pushed to substance abuse and suicide because of anti-homosexual cultural and family pressures, empirical tests have shown that there is no difference in homosexual health risk depending on the level of tolerance in a particular environment.
Also clinical reports have shown that incidences of breast cancer are higher among Lesbians. Breast cancer is the most common cancer diagnosed among women and is the leading cause of cancer death among women in the United States, following cancers of the skin and lung.
According to the Centre for Disease Control, CDC, men who have sex with men remain the group most heavily affected by new HIV infections. In a report tagged: "Modeling the Impact of HIV Disease on Mortality in Gay and Bisexual Men and published in the International Journal of Epidemiology, Robert S. Hogg et al, the life expectancy for gay and bisexual men is 8 to 20 years less than for men in general.
Also in 2007, CDC reports that Men Sex with Men were 44 to 86 times as likely to be diagnosed with HIV compared with other men, and 40 to 77 times as likely as women.