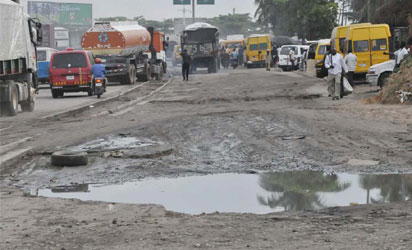 The Federal Roads Maintenance Agency (FERMA) has promised to rehabilitate all federal roads across the country in 2014 and beyond, an official has said.
A member of the board of the agency, Alhaji Ahmed Gusau, stated this when he addressed a news conference in Sokoto on Tuesday.
Gusau, a former Deputy Governor in Sokoto State, also said, "the potholes that you see, that are disturbing Nigerians on the roads are being aggressively addressed.
"This is to ensure safe driving by Nigerians. This is one of the cardinal responsibilities of FERMA and I believe we are up to the task.
"By the special grace of God, 2014 will witness much of such intensity of maintaining Nigerian roads," Gusau, also a former Minister of Solid Minerals, said.
Gusau explained that the gesture was to ensure that Nigerian roads were safe for movement of persons and property.
The FERMA board member, however, decried the habit of overloading by articulated vehicles, which he said, were wreaking havoc on Nigerian roads.
"There is no reason for you to put 60 tonnes in a vehicle of 30 tonnes; that act is giving serious depression on the roads.
"Before you know it potholes will come up, hence, killing Nigerians by creating such dangerous potholes,'' he added.
Gusau further urged Nigerians to desist from such nefarious acts, saying that motorists should not be "hasty" in their bid to make money.
The former minister also advised Nigerians to patronise the railways and inland waterways, which he said had been revived by the Federal Government.
"This should be done in the interests of our roads and Nigerians,'' he said. (NAN)