By Prisca Sam-Duru
IT has been no holds barred for Nigeria's talented writer, Chimamanda Ngozi Adichie since hitting the literary scene in a career that spans a decade, as she has attracted for herself, a shelf full of laurels and honours which are eloquent indication of the reward for hard work and creativity.
Little wonder Adichie  has been described as "the most prominent of a procession of critically acclaimed young anglophone authors succeeding in attracting a new generation of readers to African literature."
Since she came on board, the name Chimamanda has featured prominently during discussions revolving around fiction, poetry and short stories especially when she released her debut work, Decisions, a collection of poems published in 1997 as well as her first play, For Love of Biafra in 1998.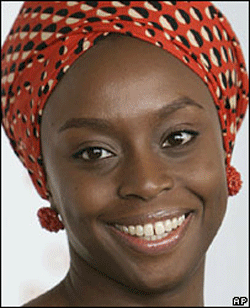 The general acceptance of her literary contributions has been very amazing thus, earning her a large number of fans both within and outside the country, in a short period of time.
The Enugu State born gifted writer who started her academic journey in Nsukka where she attended primary and secondary schools and briefly studied medicine and pharmacy at the University of Nigeria, Nsukka, before she left the shores of Nigeria when she was just 19 years, for the United States of America where she continued her university education and also resides till date.
The mother of two who currently divides her time between Nigeria where she mentors young writers in creative workshops and the United States where her family lives, began gathering laurels when she was shortlisted in 2002 for the Caine Prize for her short story, You in America.
Her story, That Harmattan Morning, published in 2003 was subsequently, selected as joint winner of the BBC short story awards and also, won the O. Henry prize for The American Embassy.
Adichie's first novel, Purple Hibiscus (2003), received wide critical acclaim. It was shortlisted for the Orange Prize for Fiction in 2004 and was awarded the Commonwealth Writers' Prize for Best First Book (2005). Her second novel also, Half of a Yellow Sun, named after the flag of the short-lived  Biafra nation has its setting, covering events that took place before and during the Biafran war, was awarded the 2007 Orange Prize for fiction.
Half of a Yellow Sun was also adapted into a Nigerian drama film directed by Biyi Bandele and  was screened in the Special Presentation section at the 2013 Toronto International Film Festival.
Music sensation
It featured Thandie Newton, Chiwetel Ejiofor, Onyeka Onwenu and Anika Noni Rose. Nigerian music sensation, D'banj also recorded the official soundtrack for the adaptation of the novel"Half of a Yellow Sun" which will be premiered soon.
Chimamanda's third book, The Thing Around Your Neck (2009), a collection of short stories was in 2010, listed among the authors of The New Yorker's "20 Under 40" fiction issue. Her story Ceiling, was also, included in the 2011 edition of the best American short stories while in 2013, she published her third and latest novel, Americanah which has so much added to her fame as it was selected by the New York Times as one of the 10 Best Books of 2013 and also, won the 2013 Chicago Tribune Heartland Prize for fiction.
The Heartland Prize, a literary prize established  in 1988 by the Chicago Tribune Newspaper in both fiction and non-fiction, for books that are concerned with American issues, causes and concerns,  described Americanah as "a powerful, resonant novel and we would be delighted to celebrate it and try to share it with a wider audience."
To prove how much Adichie's works have affected the entire globe, America's singer Beyonce best known as Queen Bey, surprised her fans all over the world when she  secretly dropped a new album on iTunes on December 12th, 2013 and featured Chimamanda on a track titled Flawless.
As an Igbo, Chimamanda has through her creative writings as well as conduct and appearance as regards hairdo and dressing, promoted cultures typical of Africans. The award winner and author while talking with Kate Kellaway of the Observer on issues relating to  African women, noted that "African women should be proud of their natural hair, which is the pride of Africans instead of having inferiority complex carrying it…I am a bit of a fundamentalist when it comes to black women's hair. Hair is hair – yet also about larger questions: self-acceptance, insecurity and what the world tells you is beautiful. For many black women, the idea of wearing their hair naturally is unbearable."
The celebrated international writer's speedy ascension to fame according to her, has been the  result of impact of works by legends such as Prof. Chinua Achebe. Adichie described late literary icon Prof. Chinua Achebe as well as Flora Nwakpa  as very important personalities to her and further noted that Achebe's writings gave her the confidence to go into writing.
Late Achebe on his part wrote, "We do not usually associate wisdom with beginners, but here is a new writer endowed with the gift of ancient storytellers. Adichie knows what is at stake, and what to do about it.
She is fearless or she would not have taken on the intimidating horror of Nigeria's civil war.",   after reading the manuscript of Chimamanda's second novel which is a confirmation of the show of ingenuity of the author right from the start of her writing career.
With the past giant strides the gifted writer has made, it is expected that in 2014 and beyond, Adichie would obtain more feats as she advances in her writing career.
Subscribe for latest Videos