BY NDAHI MARAMA
MAIDUGURI – Over 50 gunmen, yesterday, invaded Kawuri District of Konduga Local Government Area of Borno state and set ablaze over 300 residential houses, after killing a soldier, 51 civilians and wounded several policemen.
Residents who sustained injuries during the attack are now receiving treatment at the Konduga General Hospital and the University of Maiduguri Teaching Hospital.
Kawuri District is one of the big towns in Konduga,on Maiduguri-Bama Expressway, which is about 60 kilometres from Maiduguri, the state capital.
This is the second the town is witnessing terror attacks. The first was in October last year, when Boko Haram terrorists clashed with vigilante youth, popularly known as civilian JTF, which led to the killing of 10 people including three members of the Civilian JTF, with 18 others injured and the burning of 48 shops and 200 houses.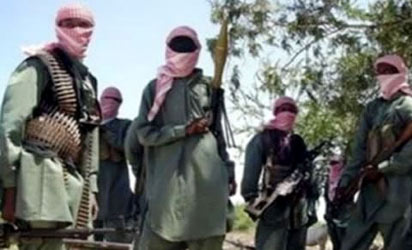 Vanguard gathered that the fresh attack on Kawuri town took place at about 5pm, Sunday, when gunmen with AK47 rifles, Improvised Explosive Devices and petrol bombs entered the community and wreaked havoc before they fled into the Sambisa forest.
A survivor, Mallam Mustapha Modu said, he counted about 47 dead bodies on Monday morning while several others sustained gunshots and burnt wounds.
It would be recalled that in the last one week, 37 communities of Kwaljiri, Kaya, Ngawo Fate, Limanti, Njaba, Yahuri, Mude, Wala and Alau among others in Damboa, Konduga and Gwoza Council areas have all been sacked by terrorists living displaced residents taking refuge in neighbouring villages in Cameroon Republic and other towns, including Maiduguri.