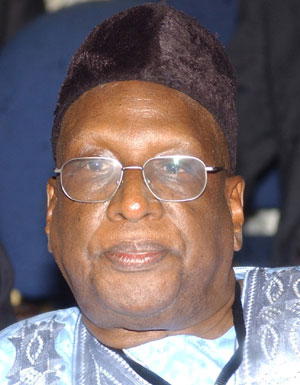 Alhaji Bamanga Tukur, the National Chairman of the Peoples Democratic Party (PDP)
By Salisu Zakari
National Chairman of the ruling Peoples Democratic Party, PDP, Alhaji Bamanga Tukur, has said that the party would do everything within its power to resolve the crises rocking it  before the 2015 general elections.
Tukur spoke when he addressed party supporters in Kaura in Zamfara State, during the presentation of ''some democracy dividends'' to the people of Kaura Senatorial District, by Senator Sahabi Kaura. He  also said that arrangements were being made to reconcile all the warring factions of the party in order to forge ahead.
He spoke  as the former Governor of Zamfara State, Mahmud Shinkafi predicted a resounding victory for the PDP in the state in 2015 and asked the people to remain calm and law abiding  as the party would do everything possible within its reach to take over the state in the forthcoming elections.
''We are optimistic that we will succeed in that direction and all will be okay even before the forthcoming 2015 general elections," Bamanga added.
He further explained that the PDP was the only party which intention was to among other things, improve the living standard of the people by fulfilling  its electoral promises to the people.
He commended the Senator Kaura for donating some materials to the people of his area adding that this was worthy of emulation by other senators across the country, so that the electorate would and feel that they were part and parcel of the party under which they were elected to represent them.
Meanwhile, the former Governor,  Alhaji  Shinkafi, who also addressed party supporters during the ceremony, noted that there had been no improvements on the infrastructural facilities he left behind as governor almost 30 months ago, adding that government must work to ensure that there was food on the table of the average people of the state.
Shinkafi lamented  over the poor security situation in Zamfara State, which he said, had reportedly forced some residents to flee from their houses, adding that no government programme or policy could succeed in the midst of economic crisis or insecurity. He then asked the governments at all levels to address the menace.
''Our people are dying of hunger and poverty is increasing on a daily basis. I was told that a number of people are selling their properties just to eat, due to abject poverty in which they live today," he added assuring them that all would be history if the electorate gave PDP a chance to rule them again in 2015.