Paul Bassey
I had set out to entitle this week's column Diary of a football traveler ( whatever that means). I wanted to use the column to talk about very interesting experiences as I jumped in and out of planes in the course of my football assignments.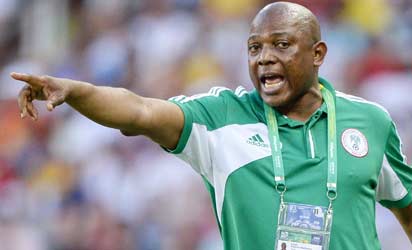 I had wanted to talk about my new gait as I received accolades over Nigeria's double barrel achievement of winning the FIFA U-17 trophy and qualifying for the world Cup. Congratulations, Felicitations…..became a familiar refrain in my ears as I basked in the euphoria of a once again proud football playing country.
I wanted to talk about the Algerian football fans who as early as noon had jam packed the stadium in Blida for a match whose kick off was fixed for 7pm.
Security wise, the public address system had to be used to tell the fans to get back home that there was no more space in the stadium. Then came the efforts to control their long wait even as the cold bit deep.
What a crowd, all clad in green and white and every single one of them clutching a national flag, singing repeatedly with the flags held aloft.
This is the crowd referred to in football parlance as the twelfth player! About a week later I found myself in Lubumbashi for the second leg final of the CAF Confederation Cup between CS Sfaxien and Tout Puissant Mazembe.
Again what a crowd that turned out at the T.P.Mazembe Stadium to cheer their team to victory. In the 20,000 capacity stadium you could hardly find ten people who were not in the famous T.P colours of white and black. What an atmosphere and ambience to behold.
On arriving Nairobi last Tuesday and seeing a FIFA plane parked on the tarmac, I had wondered why Nigeria was excluded this year from the World Cup trophy tour. Would have been very proper to have that Cup come visiting , come buoy our expectations as a people as we prepare to travel to the land of football Samba.
Still in Nairobi, I believed it was not fair for me to have to travel out of the country before I could read about Nigerian teams involved in a continental basketball competition. The Daily Nation Newspaper informed me that morning that USIU of Kenya had defeated Dolphins of Nigeria by 61-44 in the African Women's Basketball Club Championship going on in Mekness in Morocco.
The paper went on to say that another Nigerian Club First Deep Water was better placed, beating Eagles Wings also of Kenya by 71 baskets to 69. I now understand why the so called lesser sports demand a bit more interest from journalists in their sports!
I wanted to talk about all these and more, but decided to focus on the current situation, the vexing Keshi question, one in which the media has latched on and is not ready to let go until the Eagles board their plane to Brazil.
The question comes in different forms.
" Sir don't you think that the way we played against Ethiopia, though we won, that we need to strengthen our technical bench?"
Or, " Sir don't you think it will be counter productive to employ a foreign coach to destabilize Keshi and his colleagues now that they have done a fine job to qualify us for the world cup?
There is even a third question bordering on the return of players Keshi has considered surplus to his requirements.
Most of the time, I have told my young colleagues that " I don't think anything" and that they should spare me the catch of being a member of the Technical Committee of the NFF. The committee does not have to meet on this. I have a personal opinion. That it is up to Keshi to decide what he wants for his team either on the technical bench or on the reserve bench.
Despite the good intentions, history does not favour us going into the world cup with changed coaches. I believe we have learnt our lesson, just as we know that qualification is now behind us and just going to Brazil to make the numbers will not be enough. It is the wish of millions of people to see Nigeria as that African country that wins the world Cup and to be able to do so you must at least get to the final through the quarter and semi final stages.
I believe I can rest this case this way.
Golden Eaglets parents
This column would not have been complete if I did not go back to last week and what some have described as "…. your best column ever"
That some of those credits came from colleagues like Onochie, Ubani, Sadiq Daba ( Yes the same ) delights yours truly. There was the NFF President himself who wished President Jonathan will get to read it and vowed to do everything possible to guarantee the future of those kids.
Dr Ferife, Dandy Idundun, the popular couturier Tex Egbedi, Chief Asudo Godwin, Francis Ibe, Titi Adelanwa and others too many to mention…….I wish I could publish your comments which were as hilarious as the column itself. Happy that we used humour to drive the message home.
See you next week.