BY OKONKWO EZE
ONITSHA  — The Chairman of G.U.O. Motors Limited, Chief G. U. Okeke, yesterday, said he ate lunch with his kidnappers at their den before he was released on the payment of over N30 million ransom.
He was testifying before an Onitsha High Court presided over by Justice Chudi Nwankwo, in conclusion of his cross-examination by counsel to Alexander Onyinanya, the third defendant.
According to him, "in spite of distress and trauma I was going through, I relaxed and stayed with the kidnappers, reading my Bible.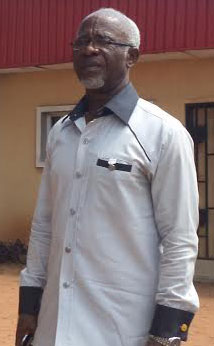 "Although I was bleeding profusely and in serious pains due to machete cut, gun shot, human bite and beating by my the kidnappers, I was courageous enough to discuss with them and to control them for the period I was with them.
"I was still bleeding as the kidnappers held me hostage and only one of them covered his face as I stayed with them."I was able to identify the third accused person even though he covered his face because be served in my house in the village for about one year before I was kidnapped.
"The third defendant was living a flamboyant life and was wandering around in Adazi-Ani, my home town before he was eventually arrested after being in hiding for about two years.
"Alexander Onyinanya, the third defendant, was not doing any job in Adazi-Ani and did not go to his home town Ufuma after the kidnap incident but was staying in Adazi-Ani without any job and without living in any known place.
"He was on the run for about two years before he was eventually arrested by men of vigilante group and he was limping when he was arrested."The kidnappers were carried away by the large sum of money I promised to give them as ransom and therefore did not bother to cover their faces anymore.
"I was reading Psalms 23 and 121 and the words in those verses kept encouraging me and raising my hopes of survival."
Why kidnapping thrives in S-East
According to him, kidnapping is thriving in the South-East geo-political zone because most of the kidnapped victims are usually afraid to report their suspected kidnappers to the police and follow the case up to the law courts.
He said the numerous threats he had so far received from his kidnappers and their god-fathers were enough to scare him from following the matter up to the level it is now.
Yet he had to muster the courage to go ahead and prosecute them to the letter as he is already doing in the law court, even at the risk of his life, as a part of efforts to fight the ugly trend to a stand still.
On how he identified the third defendant as one of his kidnappers, the prosecution counsel, Chris Ajugwe, who appeared with Mrs. Margaret Wilcox, raised an objection to the question on the ground that most of the questions already asked Okeke, by the defence counsel are being repeated, thereby putting him into confusion since he had already answered them in the past cross-examinations.
Ruling on Ajugwe's objection, Justice Nwankwo agreed with the prosecution counsel.
The judge, therefore, directed the third defence counsel to ask fresh questions that would be relevant to the matter. The presiding judge, Justice Nwankwo adjourned the matter to February 6, 7 and 27; March 3, 20, 24 and 25; April 1 and 3, 2014 for cross-examinations by the prosecution counsel.