By Emmanuel Aziken
Are you going to heed the calls on you to contest the Abia Central Senatorial Seat in 2015?
Well, I have not indicated my interest, you have come many times to ask me what my plans for 2015 are and I have told you that my plan is to finish my projects and that 2015 will take care of itself. But I have started getting serious temptation from my people, every group within Abia Central and beyond.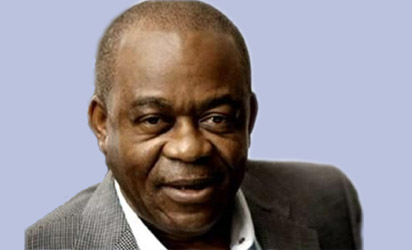 There have been clarion calls from groups and stakeholders. The other day, all the members of the state House of Assembly, major stakeholders and traditional rulers held a meeting in Umuahia and passed a resolution that I will be the unchallenged candidate of PDP for Abia Central in the Senate.
They gave me the resolution, saying that they will come and present it to me officially but I told them that when I have the chance, I will let them know. Just a few days ago, stakeholders of Umunneato did the same thing.
In Abia Central, there are six local government areas, Umuahia North, Umuahia South, and Ikwuano, (Bende bloc) others are, Isiala Ngwa North, Isiala Ngwa South and Osisioma. These are the people we see as the Ukwa Ngwa bloc.
So in Abia Central, we have the Bende and Ukwa Ngwa blocs. The Ukwa Ngwa bloc in an impressive way mobilized themselves recently, they did not tell me, but if you were at the venue of the event, Ngwa High School , there was no space for people to move, they wrote it on a plaque and gave to me, insisting that they will conscript me into the race.
They wanted me to give them an answer and I told them that I have to go home and think about it because it is not an easy thing to do. You have to prepare and get yourself ready before you give them an answer.
Many other groups are also saying the same thing. The Ariaria people have given a notice of their readiness to organize one million- man match on the same issue, but we are looking up to God for his will to be done.
What are you envisaging Aba to be by the time you are leaving office?
I want Aba to be economically strong. We want to make Aba a brand, you and I know the value of Aba and the things that are manufactured in Aba are quality things but because of our mentality, that these products are locally made, people don't patronize them, so what Aba people do is to re-brand the products and label them, 'made in Italy, made in Spain, made in Japan, made in Germany' and people buy them but these goods are manufactured in Aba.
So what I want to do is make Aba to be a brand so that when you see 'made in Aba,' you will buy it and know that it is a quality product.
That was how Japan started, I remember when we were very small, some people were making caricature of Japanese goods buttoday, Japanese goods are the best. That is what I am aiming at so that Aba will be a brand.
You see the markets that I am establishing here and there, we are funding them and making the environment conducive for our indigenous investors and manufacturers to operate. We are doing all that we can to encourage them.
Private power distributors such as the Geometric Power Plant and National Integrated Power Plants (NIPP) project in Ugwunagbo, Alaoji are targeted at Abia and environs because of the importance of energy in these areas.  So when these things are on ground and with the security that we have put in place, people will have no reason not to produce or invest, this will make Aba a brand.
We are currently upgrading Aba, the money that we have sunk in Aba is more than the money that we have put anywhere else in Abia State. Honestly, the amount of money that we put in Aba in terms of environment, opening up of channels, road rehabilitations and construction as well as other infrastructure have not been put anywhere in state.
But the problem in Aba is that as you are sinking the money, most of the time you may not see the in depth value for that money because of the population of that city which is over 2 million people.
People from all the states of the federation and beyond are all in Aba, and as commercial people, their behaviour is different from that of the people you see in Umuahia who are mainly civil servants. Those are the things that we are battling with.
We are doing everything possible in Aba because we know the importance of that city and we know that it generates money for journalists because when you write about Aba , people buy your papers.
At what point did you arrive at the decision to recall disengaged non indigenes in the state civil service?
Let us not forget why we took that policy. It was a policy of circumstance, a policy we couldn't run away from if the civil service were to survive. It was when the 18 000 naira minimum wage issue came up and we had a commitment to our civil servants and when we make a pronouncement, we must live by it. We came back and did our calculations and realized that with the number of civil servants that we had and with our income, we couldn't make it.
A look at the composition of our civil servants showed that almost three-quarter of them are not from this state, yet the allocation is being given on state basis. When we realized also that when some other states from the South East had similar problems that what they did was to disengage those that were not from their states, the records of what I 'm telling you are there, and I am sure that it helped them to overcome, so we said, 'let us do peer review, let us try it and see if it can work for us.'
However, some people had the impression that we just disengaged the workers and asked everybody to go but as we checked, we realized that we still have over 2000 non-indigenes in our service.
There were people who came and I had to bring them back. For instance, if bishops and other clergymen's wives were affected by the policy and they pleaded on their behalf, if you refuse such people and they pray for you, you are in trouble. So we brought many of them back but we were not advertising it. So the number that we are now going to call back will be very insignificant.
When we took that policy, we knew the reaction of the people, it generated much heat and controversy but it was in our own interest because Abians were happy to certain extent that I could pay them. Moreover, the people who were disengaged from the northern part of the country as a result of insecurity came back and were reengaged.  I am paying the highest minimum wage in the country right now, N20, 100 check it out. I have industrial harmony and peace in this state.
As a result of this industrial harmony, when the civil servants in other states went on strike because of the minimum wage issue, civil servants in Abia did not embark on any strike.
That is the genesis of the whole thing, I know that the people that I asked to go back to their states are my people, but I made contacts with my colleagues in those states and told them what I intended to do and why but I did not get any reaction from them.
As soon as I did it, some of them started talking but I had expected that within this period that these people would have been taken back in the civil service of their various states as we did in the case of Abia indigenes when they faced similar issues who we reabsorbed in the service.
We did this because we had financial constraints, however, now that we have seen significant improvement in our IGR, the best thing that we have to do is to call these our brothers and sisters back to work now that we are sure that when they work, we will be able to pay them.
We have done that and we meant it. We have put up adverts on the pages of newspapers giving deadlines to those who are interested.
You won the Best Governor award in healthcare development and security recently what does this mean to you?
Well, they mean a lot to me and they are the manifestations of what we have on ground. The people that gave us the award came here studied us and compared us with other states, it wasn't peculiar to Abia State alone, they went to other states, and if you look back at that event, Abia is the only state that won two awards. We did not lobby them, they came and did their survey and they realized that we have done very well in security.