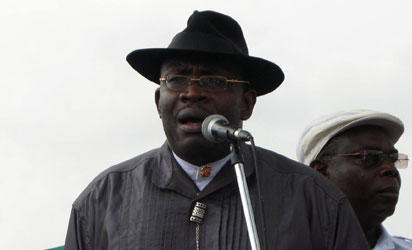 *File photo Gov Seriake Dickson
By Samuel Oyadongha
Yenagoa—Traditional rulers and youth leaders of 12 communities in Brass Local Government Area of Bayelsa State, weekend, urged the state governor, Mr. Seriake Dickson, to initiate an investigation into the alleged plot by Nigerian Agip Oil Company, NAOC, to cause communal crises in the area.
The communities include Ewoama, Egweama, Igbabelue, Beletiama, Opuorubou, Canuskiri, Inibomoyekiri, Mbikiri, Egirigiri, Elepa, Egweama-Amaogbo and Akabeleu.
They decried the alleged decision by Agip to neglect fishermen affected by the November 27, 2013, oil spill and that the non-inclusion of traditional rulers in the assessment tour of spill sites was causing anger in the area.
The concerned communities, under the aegis of Brass Environment Preservation Network, BEPN, in a statement in Yenagoa, claimed that the divide and rule tactics of  NAOC and its agent, identified as a former aide to the former governor of the state, is causing tension among them.
The statement, signed by it's President, Tontebo James, and Public Relations Officer, Ebinyo Tonworio, challenged Governor Dickson, the National Assembly and the Economic and Financial Crimes Commission, EFCC, to fully investigate the matter and bring those involved to book as the bribery case was capable of causing crises in the communities.
The statement read:  "We wish to express displeasure with the criminality Agip has displayed in the handling the spillage.  The spillage occurred in the Atlantic Ocean directly off the shore of Brass Island.  Consequently, Agip selected youth leaders of Okpoama, Odioma and Twon Brass for an inspection on the 28th and not 27th. It left out the eight communities from where fishermen go offshore."