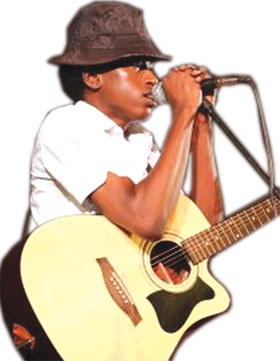 GT Guitarman
By Aderonke Adeyeri
A singer, Akingbogun Gbemiro Tokunbo, a.k.a GT  Da Guitarman is our guest in this edition of Celebrity Tummy Talk. The talented dude and  graduate of Economics explains why he prefers   amala and gbegiri soup to other delicacies while also advising Nigerians to avoid extravagance during this yuletide.
Which kind of food would you  prefer this yuletide?
My taste and love for food changes as the day goes by. I grew up  eating rice to a fault but now I prefer African food especially amala and gbegiri soup with ewedu.
Why amala and gbegiri?
As someone who hails from Obafemi Owode local government in Ogun state, I know that amala is one of our delicacies but the gbegiri is just something I developed overtime .
Can you prepare this delicacy?
Yes, I can. Right from my tender age, my mummy taught us how to cook and every one in my family loves my cooking especially my mother and I still cook on a daily basis.
Did you play any prank to get a particular type of food while growing up?
No, I didn't. My mum allows us to eat whatever we wanted. So, there was no reason to have played any pranks.
Do you exercise?
I seldom exercise but I jog and skip whenever I feel like.
Your advice to Nigerians this season
Nigerians should eat balanced diet and should stay away from excessive spending that may result into debts.