By Soni Daniel, Regional Editor, North, BEN AGENDA & VICTOR AHIUMA-YOUNG
Abuja— President Goodluck Jonathan, yesterday, paid tribute to anti-Apartheid icon, Dr. Nelson Mandela who died last Thursday, saying Nigerian politicians could not be compared with him as they threaten, boast and play little gods.
He said such Nigerian politicians are tiny men and it is antithetical to good character of leadership
He stated this at a memorial service in honour of the late leader of South Africa, at Aso Rock Chapel in Abuja.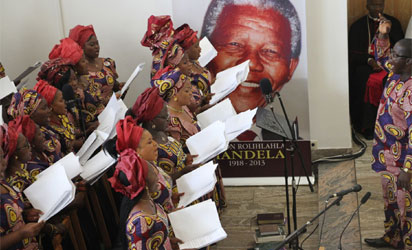 He said Mandela was filled with humility, forgiving spirit and the ability to unite people, which he said sharply contrasted with the utterances of some Nigerian politicians who speak "as if Nigeria is their bedroom" from where they make proclamation and intimidate others.
The President said: "When I listen to some politicians older than me, I come to the conclusion that it is truly difficult for a camel to pass through the eyes of a needle than for a politician to achieve greatness.
"The great names we hear today in Nigeria are not enough" as the same names played repressive roles and ruled repressively during their days as rulers in this country."
While extolling Mandela's selfless service to his country and people, President Jonathan noted that it was ironic that all those who fought him and called him terrorists were now singing his praises
He said: "Anybody that will make changes should not expect praises. They will call you names but the end matters much."
Senate President, David Mark, in his tribute enjoined Africans to fight for economic independence and democracy as the struggle is still ongoing.
He noted that Mandela lived and died for Africa, adding that if the campaign for a United Africa had been championed by Mandela instead of the late Libyan leader, Muammar Gaddafi, it would have succeeded.
The South African High Commissioner to Nigeria, Ambassador Louis Mnguni, said Mandela was indeed selfless, adding that even though he could have made money for himself as a lawyer, he chose to remain and die a combatant.
Mnguni also appreciated Nigeria for all the support it has always rendered, stating that "despite its own numerous challenges, Nigeria has not taken its eyes off South Africa."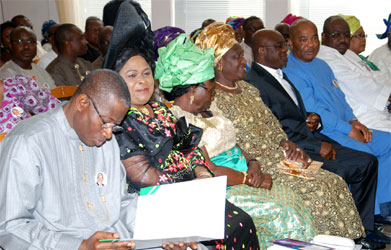 In his tribute, Catholic Bishop of Sokoto, Matthew Kukah, who was amongst the six people that paid tribute at the ceremony, emphasised the need to remember those who fought with Mandela.
He noted that the unsung heroes of the apartheid struggle should be celebrated with much emphasis on reducing persisting institutional injustices.