By Godfrey Bivbere
The Federal Government has given approval for a new firm,   Sea Waters Environmental Services Limited, to commence operations in the maritime, as well as oil and gas sector for cleaning up of pollution in the nation"s waterways.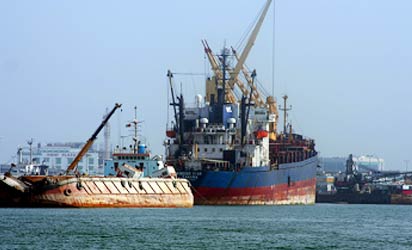 The firm which is being promoted by those who have veritable knowledge of the maritime sector of the economy is geared towards helping Nigeria to meet her obligation as a key member of the global maritime watchdog, the International Maritime Organisation (IMO).
The company Secretary of the firm, Professor Taofeeq Abdulrazaq, said that the firm has already gotten the approval of the federal government to operate in the oil and gas industry through the Department of Petroleum Resources (DPR).
Besides the DPR approval, the firm has gotten approval from the Federal Ministry of Environment as well the Transport Ministry to operate as a result of the knowledge of the firm's owners.
Abdulrazaq told our reporter in Lagos that the firm will adhere to international standard and practice in the discharge of its mandate.
He revealed that the firm will team up with its technical partners, Polyeco S. A of the United Kingdom, Finland and Greece to ensure that it delivers on its mandate to ensure that Nigeria territorial waters does run foul of the provisions of MARPOL and other guidelines and conventions of IMO.
According to the erudite professor, the business of waste management, sewage disposal maintenance, environmental sanitation, waste characterisation, and screening for specific substances will be given impetus by the company. We shall also construct, supply, lease, acquire and otherwise deal in ships and marine vessels and accessories such as boilers, sails, riggings moorings, wharves, jetties, piers, shipways, shipyards and factories and to deal in ships and marine vessels of all kinds in any part of the world.
Giving further insight into the operations of the firm, Abdulrazaq said it will also carry out the business of oil offshore support and logistics services, gas and allied products, general oil supply and avail itself of petroleum substances such as cruder oil, natural gas, chemicals, oil prospecting drilling, pumping, mining, piping, storing, sales in wholesale and retail.
He explained the experience and expertise of its promoters will give it an edge in the area it has carved out for itself, pointing out that satisfied customers, whether individual or corporate will always look for companies that can deliver no matter what it takes.
"That is the edge we have in our quest to make a mark in the competitive business environment. We have the expertise. We have the personnel. We have the experience and the technical know how as a result of our collaboration with our technical partners overseas. Therefore, we look forward to a rewarding foray in the kind of business we have carved out for ourselves as a company.
I can assure of that", he added.