Today, we bring to you the story of   Olowojaiye Michael Abiodun, a native of Ondo State who has made a mark for himself as one of the youngest movie producers and  directors. Added to this is his creative writing skill, and today he sells content to media houses. He has done several movies, soap operas, short films and Television programmes.
Excerpts:
Please tell us about your background
I was born in Ajegunle, Lagos  to a family of 7; the last born. I am in my thirties, married and blessed with a daughter.  I attended L.A primary school also in Ajegunle and proceeded to  OjoHigh School, Ojo. I had my tertiary education at OlabisiOnabanjoUniversity.  I grew up with my parents in a house of 20 rooms where I had to squat with my elder brother in a room. My dad died in 2010, but my mum is still very much alive.
What motivated you to get into the entertainment industry?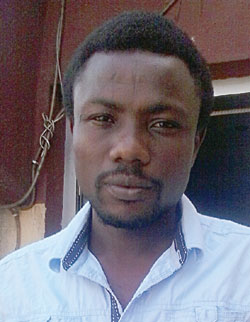 I have always had this burning passion  for entertainment, and each time people level negative criticisms at our home movies and embrace foreign movies,  I always had the belief and drive that I can come into Nollywood and effect some changes.  Summarily, I would say my major motivation is the belief that I can make some positive contributions that can help reposition the industry.
How did you become a movie director and what challenges did you encounter ?
Way back in my university days, I was in a group called Freeminders Association of Dramatic Art. I was an artist at this time but I assisted the then Director (Dotun Taylor) who in my absence always felt something was missing. So after my university days I decided to take up an online course in the US on film making, where I majored in Directing.
One of the challenges I had was the negative perception of viewers about home movies. You will be believe what this passion has done to me; I missed my NYSC twice that it almost resulted in my dad disowning. Another major challenge is that no one was willing to listen to a fresh boy who has no antecedents (movies) to show. I was faced with questions like : how then do I have movies when there was no money to make one I got into Nollywood in 2006.
I went for a script competition in Radio Lagos and I  emerged the winner. One of the judges (Uncle Ashly Nwosu) who is late now called me after the event and advised after a long chat to go fully into movie making while specializing in Directing. Indeed, for me  it was a major turning point and I have no regrets.  I feel almost fulfilled but still wait and hope on God to take me to my expected end.
What does an average Nigerian do to get into the industry?
Join any of the guilds such as Directors Guild of Nigeria (DGN), Association of Movie Producers (AMP) and Writers Guild of Nigeria (WGN) amongst others. Please ensure  you go for auditions, watch a lot of movies and do a lot of movies if you can.
Would you  consider the industry lucrative or it only pays your bills?
It is lucrative.
Who are your mentors?
Paul Igwe, Papa Ajasco, Emeka Ike and T chidi Chikere, just to mention a few.
Where do you see yourself in another five years?
A mark in the hearts of every film makers worldwide by His grace.
YOUNG NIGERIANS MAKING THE DIFFERENCE
ESEOSA ANGEl OSAYANDE
Eseosa Angel Osayande, also known as "Angelwhite" born to a Nigerian parents in the ancient city of Milano,Italy. However, he moved back to Nigeria at the age of 4 for his primary and secondary education and later moved to the US to study. He is  back home to do music full time and also returned with his musical and fashion skills. He dropped his first official single 'Sweet Poraro' and this gained wide acceptance
by music lovers all over the country. After the good reception, he dropped a 'club banging hit' which happened to be his second single titled "Tungba". The song is aired/played  nation wide on the streets, clubs, radio, online, tv and numerous events in the country. He is also working with some A-list acts in the country and Europe which he plans  to include in his album.
Angel studied Business Management at TCI college of Technology, New York City ; acquired a Medical Asst. Certificate at AllenSchool, Queens New York city and did a certificate course on Fashion Design with IED, Milano Italy. He  also volunteers as a Nurse helper in Newyork Nursing home and can pass for an active human right activist.
Subscribe for latest Videos