LONDON (AFP) – Nelson Mandela "drew his last breath and just rested", his ex-wife Winnie said Thursday in her first public comments on his death.
Winnie Madikizela-Mandela said she rushed to the former South African president's bedside for his final moments, in an interview with Britain's ITV television.
She said: "I went close to him and I noticed he was breathing really slowly. I was holding him trying to feel his temperature and he felt cold. Then he drew his last breath and just rested… He was gone."
Mandela village under lockdown ahead of burial
Also South African troops lined the road to Nelson Mandela's burial site in his boyhood home at Qunu, as preparations for his funeral got under way Thursday.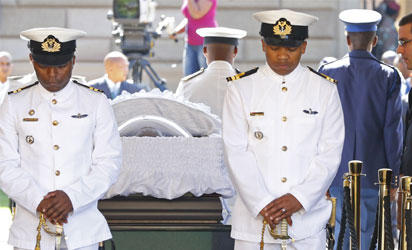 His homestead was under virtual security lockdown as armed troops arrived in truck convoys to carry out dress rehearsals inside.
Thousands of high-profile mourners, including numerous political figures are expected to descend on the remote location in Eastern Cape province, where Mandela will finally be laid to rest on Sunday.
Since the beginning of the week, workers have been busy preparing the site outside the small backwater town of Mthatha.
Heavy rain since Tuesday has hampered but not stopped construction of a large white dome-shaped marquee, where the funeral service will be held.
On Thursday, another structure was being erected next to the gigantic marquee.
According to government officials, the venue will accommodate some 5,000 people.
Access into the compound perched on a hilltop overlooking clutches of traditional huts is restricted to family members and relatives and several delivery trucks that were seen passing through the gates.
Several family members including Mandela's eldest daughter Makaziwe started arriving on Wednesday evening under police escort.
Mthatha Airport manager Anderson Maduneni said the facility, which normally handles two small commercial aircraft a day, will have to cope with 100 aircraft over the weekend bringing world figures in and out.
The airport has been shut down for commercial flights since the beginning of the week.
"The army has taken over the airport… it will only receive aircraft transporting dignitaries. It's one of the measures that have been put in place to ensure safety," said Maduneni.
Police are stationed along the length of the 35-kilometre (22-mile) road from the airport to Qunu, often stopping and searching vehicles.
The section nearest the Mandela homestead has been cordoned off since last week.
Subscribe for latest Videos