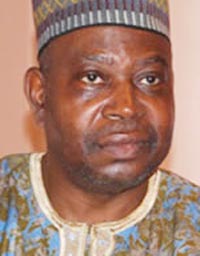 Prof Iyayi
By Gabriel Enogholase
THE  former Academic Staff Union of Universities (ASUU) President, Prof. Festus Iyayi, was, yesterday, buried in his country home at Ugbegun in Esan Central local government area of Edo State.
In a homily preached by a Catholic priest, Revd Father Peter Omijie, he urged the late lecturer's family members and associates not to cry over his death  as they have the hope of seeing him again.
"We will on resurrection morning rejoice with him. Leaving our physical body is not the end of our lives," Omijie said.
He admonished the people to ponder over their spiritual destiny and where they will spend their eternity.
The interment of the late professor of business administration at exactly 10.42 am was preceded by solidarity songs offered by ASUU and civil society members who came from all parts of the country.
The burial ceremony was solemn and devoid of fanfare.
The Chairman of Independent National Electoral Commission (INEC) and former ASUU President, Prof. Attahiru Jega, who was among the personalities who attended the burial, described Iyayi, as one of the few Nigerians who have tremendous integrity and passion for progress and development of Nigeria as one united country".
Jega added, "I worked very closely with Festus Iyayi. He was like a brother to me.
"He made tremendous sacrifices for the development of this country and reforms that can help ordinary Nigerians. It is a very sad losses to us especially people who have known him for a long time".
Other dignitaries at the occasion were Governor Adams Oshiomhole of Edo State, Senator Abubakar Bagudu who represented the Senate; Professor Abhulimen Anao, former Vice Chancellor, UNIBEN; Chief Medical Director, UBTH, Prof. Michael Ibadin; ASUU President, Dr. Nasir Fagge; Dr. Dipo Fashina, former ASUU President, Odia Ofeimu; Dr. Ogaga Ifowodo; Dr. Osagie Obayuwana and members of the UNIBEN community.
Meanwhile, Edo State government is to immortalize Iyayi.
Speaking at a reception held at the Ugbegun Grammar School, Oshiomhole said the school will be rebuilt and renamed Festus Iyayi Memorial Grammar School. He also said a water scheme will be constructed at Ugbegun and named after Iyayi to remind the people of who he was and what he fought for.