By Kunle Oyatomi
The Independent National Electoral Commission (INEC) is in a crisis of confidence. In the last six months it had bungled two very important elections so badly that public confidence in its capability and even capacity to conduct a truly free and fair election over again has plummeted.
The elections in question were conducted in Delta and Anambra States. They were the first series of tests for INEC, and in the public opinion the institution failed woefully to convince Nigerians that it is above board, or could be trusted to deliver a fairly dependable electoral result.
So it becomes baffling, if not disgusting that the once revered chairman of the Commission, Professor Atahiru Jega, now confronted with a second series of elections in Ekiti and Osun which are due next year – is saying that it is a test case for how INEC would conduct the 2015 presidential election.
Prof. Jega didn't say it correctly. The Ekiti and Osun governorship elections INEC will conduct in 2014 are the second and final series of tests, which will make or break the Commission. Get those elections wrong, and you will be setting fire to the keg of gun-powder that Nigeria is already sitting on. It is as serious as that.
The impression already created by the conduct of INEC over the Delta process where results were declared from places where no election took place, seriously prejudiced the impartiality of the electoral body.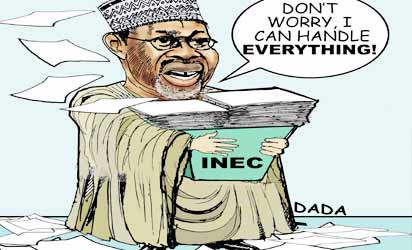 But by far the most disgusting performance of INEC in the first series of elections under review was that of Anambra State where Jega himself presided over a failed process that produced an inconclusive governorship election that appeared programmed for a specific result. That was the most obvious indictment of INEC for acting disgracefully below the highest of public esteem it was held. Anambra State election was a fiasco, a dangerous signal of a new format for rigging election, right under the supervision of INEC's chairman himself.
That perfidy is not acceptable in Yorubaland, and INEC has to be told that it is in inflammable territory: a territory in Nigeria where you don't play on the intelligence of its people and get away with it.
The impression lingers – after the INEC performance in Delta and Anambra States – that the ruling party, in complicity with elements within the electoral body, is "test-running" its new rigging formula, that it seeks to perfect next year with the Ekiti and Osun elections. That is the real test for Jega and INEC.
Will they play games with the ruling party? Will the electoral umpire look the other way as the process is seriously compromised and an unpopular party given victory in circumstances that fail all standards of a free and fair election? That is the litmus test that INEC must pass to redeem its image otherwise, Jega and his men will be held accountable for whatever disaster that will most certainly result from any attempt to rig next year's governorship elections in Osun and Ekiti States.
This country has seen clearly how Yoruba people react to such brazen acts of electoral fraud since 1964. They are even more determined now to protect their space from impostors and desperadoes whether or not they come in the garb of electoral fraud or so-called mainstream political desperation to rule over Yorubaland.
That is the test for INEC next year – to be fair and preserve peace, or to be fraudulent and create mayhem.
*Barr. Kunle Oyatomi is the Director of Publicity, Research and Strategy, All Progressives Congress (APC), State of Osun.