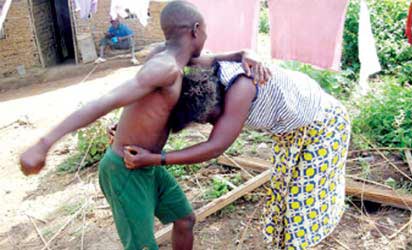 file photo: domestic violence
BY JOSEPHINE IGBINOVIA
As men, we own the house with its entire property, including our wives. If women shouldn't be our properties then why are we asked to pay so much to take them from their parents? Beating your wife is not violence, so, the world should stop putting it that way. Women ask for too much and sometimes have to be dealt with to be called to order! My wife is my property and I have every right over her; after all, didn't I buy her with my money? Sometimes you hear people say husbands rape their wives, but how possible is that? Is the man not supposed to have right over his wife? Anyway, if my wife dares to deny me sex then it means she has given me a clean license to go out and enjoy myself!"
Believe it or not, those military-inspired words came from a Nigerian male in his early 40s, to a group of women under the aegis of Young Women's Christian Association-YWCA Nigeria, who were campaigning against gender-based violence in commemoration of the 16 Days of Activism Against Gender-Based Violence 2013 in Lagos. The mindset of this young man who simply identified himself as Bature puts a mark on the appropriateness of the theme of the 16-day activism: "From Peace in the Home to Peace in the World: Let's Challenge Militarism and End Violence Against Women!" which runs from November 25th to December 10th.
Unabated rise
Spousal abuse which is popularly known as domestic violence occurs when one person in an intimate relationship or marriage tries to dominate, control or bully the other. This takes various forms such as beating, forced sex(rape), emotional abuse, neglect, economic deprivation, to mention but few. Unfortunately, spousal abuse continues to occur in every region of the world, with the majority of the world's women experiencing violence inflicted by an intimate partner at some point in their lives. Back home in Nigeria, unequal power relations between men and women, particularly in homes, increasingly manifests in a culture of discrimination and violence. This has continued unabated, despite ratified international treaties which bestow on government at all levels the responsibility to prevent, protect individuals from human rights abuse, and punish violence against women, whether perpetrated by private or public actors.
Ending domestic violence
The failure of government in this regard has presented the need to look more inward in the fight against domestic violence.
"Women and men both have a role to play in curbing violence. More importantly, women should understand that on them dwells the task of building the home. When there is love in a family, that family will definitely stand. Agape love forgives and does not hurt, so, if it is present in marriages, there will be peace both in our homes and in the society. A man who enjoys love in his home will not go about raping his daughter or other girls outside; he will think first of how such would affect his wife", Barrister Esther Omaka, Chairman, Fund Raising, YWCA Nigeria, suggested during a walk against violence carried out by the organisation last Thursday in Lagos.
Meanwhile, Chief Oprah Benson, during a session organised by the West African Women Association- WAWA in partnership with the Intergovernmental Action Group against Money Laundering in West Africa- GIABA to mark the 16-day activism, suggested the need for women to learn to identify spousal abuse.
"There's too much violence and a lot of provocative behaviours from people who should know better. A huge problem on ground is that some women do not know when they are being abused! Violence against women is a crime against humanity and that's the reason I also strongly support the proposed life imprisonment penalty for rape."
For Chief Agnes Otobo-Ojehomon, Board Secretary, WAWA, "Women have to learn to report cases of violence rather than being reluctant. Sadly, for many who are able to report, as soon as the case is almost becoming public, they withdraw it. So, we could see that women have a job to do in ending domestic violence."
Hwongchun Majak, National President- YWCA, again reiterated the need for husbands and wife to stay in love, emphasising that it would help sustain peace in the home and reduce violence.