BY Sebastine Obasi & Michael Eboh, with agency report
Many residents of Lagos State, especially in the Mainland, had their Christmas celebration without electricity.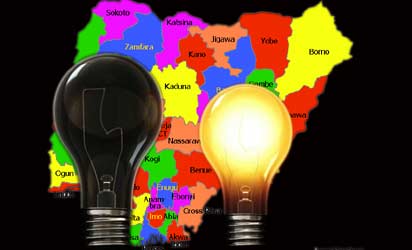 Vanguard gathered that most of the areas affected were Ojota, Ketu, Mile 12, Palmgrove, Onipanu, Maryland, Bariga, Oshodi/Isolo, Mushin and Iyana Oworo, where residents said they have been having blackout since December 25.
Some of the residents expressed their displeasure at the new distribution companies' inability to supply regular power supply to the metropolis and its environs.
Mr. Adeyinka Ayo, who resides at Mushin, said the privatisation of the power sector had not been beneficial to the citizens in spite of government's efforts to make things work.
He said: "We have not seen in this manner before. There was light on December 24, although it was on and off till 7a.m. on Christmas day.
"Since then, up till this morning (yesterday), we have not seen light in any part of this area."
Ketu, Island Similarly, Mr. Sunday Olarewaju, a resident of Ketu, said that the management of Ikeja DISCO had not given any explanation for the blackout.
According to him, "we do not know if electricity workers are on strike or not. In our usual way, we have checked the transformers and moved around but there is no sign that a major fault was responsible for the blackout."
Olarewaju said the residents' representatives were planning to go to the nearest DISCO office to demand an explanation for the blackout.
Mr. Adeloju Shokoya, a resident of Lagos Island, expressed regret that he and his family had a "harrowing experience celebrating Christmas without electricity.
"If there is light, you will not meet most of us outside. We would have been somewhere else watching films or football matches.
"I have been on generator since Christmas day with the hope that the Eko Distribution Company would soon restore electricity supply. Up till this morning (yesterday), we have not seen even the normal flashing they give us at times."
Another Lagos Island resident, Mr. Adetola Williams, however, said that the people would continue to enjoy themselves, whether there was light or not.
He said: "PHCN or no PHCN; man must enjoy himself. Yesterday (Wednes-day), we were outside drinking and we used generators to power our musical sets to enjoy ourselves.
"From the look of things, we may do the same again today (yesterday) because l don't understand this PHCN palaver anymore.
"You know they do what they like, but they cannot spoil our enjoyment and merriment in this Christmas period."
Surulere
In some parts of Surulere, specifically around Sanya and Aguda areas, the blackout attained a worrisome dimension as residents complained that Eko DISCO had adopted a frustrating tactic.
According to the residents, the distribution company brings the light and switch it off almost immediately, saying this goes on consistently throughout the whole day.
A resident of Airways Street, Ijeshatedo, Surulere, who gave his name as Mr. Wale Abiodun, said: "For example, the DISCO will restore power and take it back three minutes later.
"The annoying thing here is that this goes on almost every 30 minutes. When they bring the light, before you finish switching on your electrical appliances, they will plunge one back into darkness.
"This has been going on since the Federal Government announced that they have handed over PHCN to new investors.
Another resident, who corroborated the epileptic power situation, said residents of the area are planning to adopt drastic measures to check the excesses of the new owners.
According to the resident who refused to give out his name, "since the new owner has chosen to resort to wickedness, we have agreed to deal with their officials who bring those outrageous bills to our doorstep.
"Most of our home appliances have been damaged by the erratic power situation. They literally play with the light, switching it on and off at will.
Eko DISCO
However, an official of the Eko DISCO, Orile sub-station, who spoke to Vanguard under condition of anonymity, blamed the erratic power situation on the new investors.
He said the new investors lack the experience to manage the power situation confronting the country.
The official blamed the blackout on the investors' decision to install a relay on the supply grid, allegedly to forestall a system collapse.
He said: "We have told them to come and remove the relay so that power will stabilise and it will not ruin the machineries of businesses within our area of coverage.
"The relay cut off power supply to residents whenever there is a surge in power consumption."The problem with the investors is that they fail to understand that what obtains in other part of the world may not work in Nigeria. They should consider the peculiar situation of Nigeria."
At some DISCO offices in Ketu, Lagos Island and Fadeyi, only security men were on duty.
However, it was gathered from the security men that the workers were not on strike, but they were not certain if a major fault had been responsible for the blackout.