A former President of the Association of National Accountants  of Nigeria (ANAN), Dr Samuel Nzekwe, on Sunday urged the Federal Government to effectively implement its job creation policy in the 2014 budget.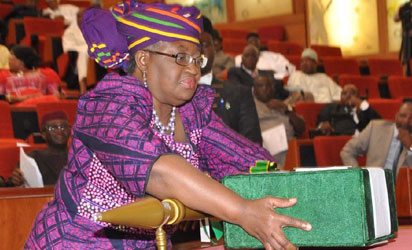 Nzekwe made the appeal in a statement in Lagos, adding that making provision for jobs in 2014 budget was commendable.
Nzekwe said that the recurrent expenditure was huge, possibly because government was trying to make provision for jobs which was not done in previous budgets. The News Agency of Nigeria (NAN) reports that the Minister of Finance, Dr Ngozi Okonjo-Iweala, on Thursday laid the 2014 budget estimates of N4.6 trillion before the National Assembly.
"The unemployment of young graduates is dangerous. Government should ensure that the job creation policy is implemented as contained in the 2014 budget," Nzekwe said. The former ANAN president also commended the plan by the government to accord priority to the agricultural sector, adding that by now Nigeria should not be talking of importing foods.
"It means that government is looking at how we can have food surplus. We should be able to produce enough food to eat and have surplus for exports," the accountant said.
Nzekwe lamented that the performance of the manufacturing sector had been at low ebb all these years due to lack of adequate infrastructure.
According to him, now that government has privatised the power sector, Nigerians are expecting some improvements in the area of infrastructure.
"It means that the productive sector will be more alive and that means there will be more employment.
"Increased productivity will improve the Gross Domestic Product and it will also enhance creation of employment," Nzekwe said.
"Now that government is going to pay attention to creation of industries in solid minerals, this is also commendable. We should not pay attention to oil alone," the accountant said. He also commended the government's initiative to kick start the housing sector where it would also create more jobs.  Nzekwe, however, urged the National Assembly to strengthen its oversight function mechanism in the areas to ensure that things were done according to the rules.
The accountant said that the National Assembly should pay attention to the faithful implementation of the budget. "Government should ensure that the budget is implemented to the letter.
"Government should ensure that money does not just go to private pockets but should be used for the purpose for which it is meant," he said. Nzekwe said that implementers of budget should be able to do it effectively so that it could impact positively on the lives of Nigerians.