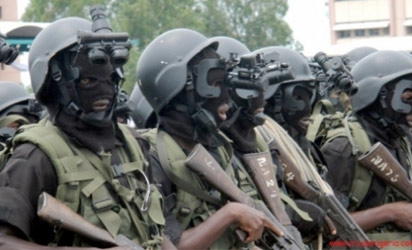 File Photo: JTF officers
By Samuel Oyadongha
Yenagoa—The Joint Task Force in the Niger Delta, codenamed Operation Pulo Shield, said yesterday it killed 82 sea pirates and robbers, lost three of its operatives in active service in 2013 to sea pirates, while three others got drowned.
The task force also said its operatives killed 23 kidnappers and conducted 1,025 anti-illegal oil bunkering patrols leading to the destruction of 1,951 illegal refinery camps in the region and arrest of 1,857 crude oil thieves.
Also, over 1,117 Contonu boats, 82 tanker trucks, 81 barges and 1,873 surface tanks were destroyed during the 2013 operational year.
Commander of JTF, Major-General Bata Debiro, stated this in Yenagoa while briefing newsmen on the activities of the command in the last one year in the region.
Major-General Debiro said the mandate of the task force was to stop illegal bunkering activities in the upstream sector,  protect oil and gas facilities and installations, secure the environment and other lawful activities in the region.
According to the JTF commander, three of its soldiers were killed by sea pirates at  Andoni, Rivers State, while three others drowned in a  river near Akassa in Bayelsa State.
His words: "In the year under review, JTF successfully conducted several land, maritime and air operations against illegal oil bunkering and refining activities, pipeline vandalism, armed robbery and sea robbery. The task force also  conducted anti-kidnapping operations, cordon and search, destruction of re-emerging militant camps and provided security to oil and gas companies in the past twelve months.
"Over 42 armed robbers were killed and a total of 183 suspects were arrested, 40 sea pirates were also killed, 41 arrested and all manners of assorted arms and ammunition recovered  from January to date."
On acts of kidnapping, the JTF Commander said though the menace seems to be on the increase, its operatives command killed over 23 kidnappers, arrested 236 suspects and recovered several weapons from the hoodlums.