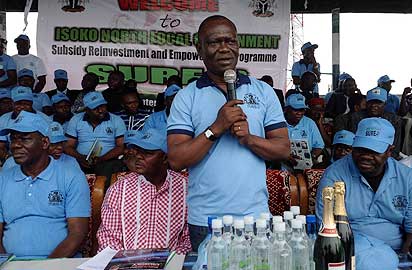 *Secretary to the Delta State Government, SSG, Comrade Ovuozorie Macaulay addressing the beneficiaries
By Festus Ahon
THE Isoko North Local Government Transition Committee, Delta State, recently put smiles on the faces of its people by empowering over 744 traders and artisans drawn from the 13 wards that made up the council area from its proceeds of the Subsidy Reinvestment and Empowerment Programme, SURE_P. The empowerment ceremony, which is part of government effort to eradicate poverty in the council area, was attended by all stakeholders and opinion leaders in the area, including the Secretary to the Delta State Government, SSG, Comrade Ovuozorie Macaulay.
The scheme was broken into three categories, namely: Small Scale Business Empowerment, Starter Packs for Artisans and Transportation. At least 470 persons got cash of N30, 000 each, while 209 artisans received different types of starter packs and 65 indigenes got one tricycle each.
Speaking during the ceremony, Comrade Ovuozorie Macaulay told the beneficiaries to make judicious use of the items or cash given to them, adding that the programme was aimed at alleviating poverty in the area. Macaulay said: "We will ensure every unit benefit. We plead with the beneficiaries to put what they will get today into good use. We want to eradicate poverty in Isoko land; what we are giving today is a lifeline.
"We must get out of the syndrome of perpetual begging; we do not beg in Isoko land but it has become a habit here. Someone get N50, 000 every month and still continue to beg. We shall come with second round.  We shall put some people on N50, 000 monthly. Whatever happens let your loyalty be to the PDP."
Flagging off the programme, the State Commissioner for Local Government Affairs, Mr Newworld Sefugha said:  "I thank the chairman and all the leaders of Isoko North Local Government Area for their commitment to the well being of their people. This Local Government is among the local governments that have benefitted from the SURE_ P.  Our Governor, Dr Emmanuel Uduaghan, directed that the money should be saved and when it is reasonable it should be used to empower the people.  This Local Government will empower 744 persons today.  So far 6,023 persons have been empowered in the programme."
Earlier in his address, chairman of the Local Government Transition Committee, Mr Samuel Idisi commended the Federal and State Government for making the implementation of SURE_P a reality at the various local government councils in Delta State, particularly in Isoko North.
Idise said SURE_P was established to ensure that the subsidy proceeds were channeled to provide palliatives targeted at the poor and other vulnerable in the society, adding that it was designed to invest subsidy money in social safety nets and infrastructural programmes that would impact positively on the lives of the poor.
He recalled that the 120 indigenes that were engaged by the Federal Government in community services were still receiving monthly stipends consistently, commending the Federal Government, the State Governor, Dr Emmanuel Uduaghan and the State Commissioner for Local Government Affairs, Mr Newworld Sefugha for the approval and release of fund for the SURE_P empowerment.
He said:  "This empowerment will be in three different categories: 470 persons will benefit from the N30, 000 cash empowerment, 209 artisans have also been selected to receive different types of starter packs, while 65 indigenes have been carefully selected to receive tricycles as their empowerment. Cumulatively, the total of 744 beneficiaries would be empowered today to glory of God.
This administration is aware of some teeming youths who have acquired vocational skills in different areas but are not able to procure the tools and materials needed to transform them into small scale entrepreneurs and we are also aware of the difficulties experienced by some of our small scale business owners hence we painstakingly selected 679 of them in this category for empowerment.
"We will present equipment ranging from 56 generating sets, 56 barbing clippers, 71 sewing machines, 51 hair dressing accessories, 20 welding machines, 3 auto electrician packs, 2 video cameras, 4 aluminum fabrication packs, 2 vulcanizing machines and 4 musical equipment. Also, 65 tricycles were procured for distribution to 65 indigenes.".