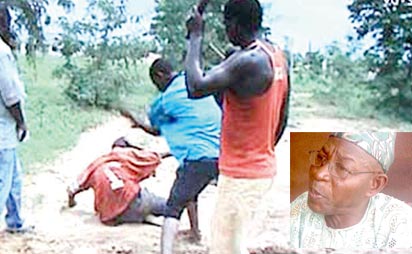 (Inset) Chief Sunday Olowookere
By Ishola Balogun
Although there is relative peace in Itele-Aiyetoro village, Ado-Odo/Ota local government area of Ogun State, residents are living in palpable fear, apprehensive of what may become of their lives and property following the high court judgment giving Statutory Right of Occupancy to exiled Adogun-Itele family. Before now, there have been reported cases of arson, rape, forceful ejection of people from their homes, among other vices, which were said to have been pepetrated by some land grabbers and miscreants.
Much of these unrest have been underpinned by land and Obaship tussle between the Adogun family and those they called land speculators. The crisis which has maimed several people in the land however forced the Adogun royal family into exile about a decade ago. The Itele land comprises of 17 villages which include, Aiyetoro, Apandija, Adeleye, Itele, Owu, Onifade, Itura, Olubode, Ajasa Odootun, Oguntedo among others.
Narrating the family's ordeal to Saturday Vanguard, the head of the family, Adogun-Itele-land, Chief Sunday Olowokere, said the battle has been won with several court judgements in their favour and the royal family was ready to return to its land, adding that government and security agents should provide adequate security to forstal break down of law and order since the impostors appeared to be resistant to the new development.
Recently, the High Court in Ijebu-ode, Ogun state had ruled that the Adogun Atele family entitled to a Customary/Statutory right of Occupancy in respect of the vast area of land in Itele village, Ogun State. The court also declared null and void all sales, leases or purported sales or any other forms  of alienation made by people other than Adogun Atele family.
"For me, I left the village by 1:00am about ten years ago, without anything. I left my car, a Mecedez Benz which was vandalised, my house was ransacked, with properties and documents carted away by these hoodlums. At that point, we told all our family members to leave the village and they left one after the other at odd hours because their plan was to kill us.
"All our buildings and properties were destroyed, some sold to people, my brother Idowu Olowokere's house was sold by these impostors and land speculators who are only customary tenants in Itele-Aiyetoro. They sold all our lands from Itele to Aiyetoro.
We petitioned the Ogun State government under the then Governor Gbenga Daniel including the presidency. The government set up a reconciliation committee and gave a white-paper ordering them to stop the atrocities."
After being forced into exile about a decade ago, the Adogun royal family, are ready to stage a comeback.
Chief Olowokere maintained that going by the judgment, all the landed property sold by the the land speculators are null and void, adding: "This is because those who sold lands to them are mere customary tenants."
He said: "much as we are not saying they should quit, we want law and order, the tenants should know themselves as tenants  and give due respect to land owners especially when it comes to land matters and obaship tussle. We are law abiding people and that is why we explored all the available legal means to re-claim our property. What those  impostors wanted was to  ignite a  tribal war between the Egba and Aworis and in the like of Ife and Modakeke, but we left Itele through the advise of Olota of Ota. But today, we are victorious and ready to take back all our property."
He  lamented various  kinds of atrocities going on in the land: "they sell and re-sell property without due regard to the law and decency. If you are developing a property in that area, they can re-sell it at any stage of construction and the new buyer will be given all the security support to complete the structure while they harass and intimidate the original owners.
"We are now urging the government of  Ogun state to intervene in the implementation of the court judgement. What we don't want is loss of lives and property or any form of break down of law and order. That is why we are calling on the government and the law enforcement agents to warn all those who are interested in fomenting trouble to desist and surrender to the court judgment."
On the Obaship tussle, he stated that plans are underway to install a new traditional ruler in the area. He disclosed that after the judgment of the supreme court which ruled that under the hereditary custom and traditions of Itele town, only the Adogun-Atele family comprising of  four ruling houses namely: Imidawo,(the first son); Osa, (second child); Ogunronbi, and Alagbeji who are third and fourth sons  respectively are  entitled to hold the chieftancy title of Oba of Itele. He added that the family are currently making consultations on who among them will become the next Oba of Itele.
Chief Olowokere disclosed that the state government have been communicated on the intention of the family to reclaim their land and return to the village, adding that government should provide adequate security especially with the possible resistance of the impostors who have no regard for law and order. "The commission of  inquiry set-up by the government in 2005  recommended that government should provide security to force out these impostors from the village. We are law abiding people and we don't want any form of casualty in the process of claiming what belongs to us," he stated.
The dispute in Itele village
The crisis that forced the Adogun family into exile was that of land disputes and Obaship tussle. The Adogun Atele/Itele family who has  gotten several court judgment in its favour claimed the village, Itele comprising of 17 other villages belong to their family. They alleged that the land was originally settled upon by their progenitor, Adogun Atele a professional blacksmith and hunter who migrated from Benin to settle at ltele many years ago.
According to them, Adogun Atele had four children namely lmidawo, Osa (Orisa), Ogunrombi and Alagbeji from whom they descended. They alleged that the names ltele and Atele were derived from Adogun's trade. According to them, in Awori dialect "Ele" mean cutlass; Atele means someone who sells cutlass while Itele means the place where the seller of cutlass lives.
They alleged that they and their predecessors have from time immemorial been in long and undisturbed possession of the land and exercised varied acts or ownership thereon: They claimed that Odutala, the ancestor of Odutala family was their customary tenant through Bale Ajose and descendant of Adogun Atele. They alleged further that the Odutala family acknowledged their lordship until sometime  in 1988 when they started laying adverse claim to Ayetoro land.
Hence suit no. HCT/7/B9 was instituted against them. They alleged that none of those laying claim to the lordship of the land is a member of any of the branches of ltele family or ever owned or being in possession of any portion of the two lands in dispute. The maintained that they are only customary tenants who at one time or the other paid royalties to the Adogun  family but are now turning back to lay claim on the land.